Search News
The company's new spam-fighting technology may be monumental
It starts on Friday
The Caribbean coastal city of Barranquilla in Colombia hosts one of the biggest parties in South Americaanow overshadowed by Zika
But it hasn't been a positive gift that it was supposed to be
There were no injuries reported immediately
The virus' ability to infect other people through the two body fluids requires further study
The 27-year-old actor never recovered from an experimental theater performance
The WikiLeaks founder's lawyers said Assange must be freed immediately
The first ever between the leaders of the Catholic and Russian Orthodox churches
Daraa was the scene of some of the first protests against President Bashar Assad in 2011
Rebel held districts of Aleppo have been reduced to rubble in attacks by Russian-backed government forces, forcing tens of thousands of civilians (pictured) to escape
Harvard graduate David Wichs, 38, died after a contruction crane collapsed in New York City on Worth Street in Tribeca. Three others were injured.
In Rhode Island, the Twin River Casino (pictured) removed 274 slot machines to make way for more poker and other table games favored by younger gamblers this past December.
Conifers such as pines and spruce whose dark colour traps the sun's heat, have nudged Europe's summer temperatures up by 0.12 degree Celsius (0.2 Fahrenheit) since 1750.
The signs were erected on Monday at Okay, Oklahoma public schools. They read: 'ATTENTION: Please be aware that certain staff members at Okay Public Schools can be legally armed.'
Vice correspondent Isobel Yeung explores the future potential for parents to select the baby'sA genetic makeup on Friday night's season premiere of the HBO series.
He was walking back to his shiny Tesla Model X, an electric-powered 'sports utility vehicle' which cost from around $80,000, when the incident happened in Chicago.
Jeremiah Oliver's remains were found in April 2014 on Interstate 190 in Sterling after he was missing for months. His mother and her boyfriend were indicted on assault and kidnapping charges.
In the financial quarter before that she spent even more - $1.9 million - suggesting she's preparing for a slugfest with Bernie Sanders. Republicans have spent much less.
Men brandishing handguns and wearing 'police-style uniforms', entered the lobby of the Regency Hotel in Dublin, and started shooting at random, killing one and injuring two.
Men brandishing handguns and wearing 'police-style uniforms', entered the lobby of the Regency Hotel in Dublin, and started shooting at random, killing one and injuring two.
Felisha Colon, of Northampton, Massachusetts, reportedly said 'kiss the floor' before assaulting her children last June in the incident at Plaza Supermarket (pictured).
Felisha Colon, of Northampton, Massachusetts, reportedly said 'kiss the floor' before assaulting her children last June in the incident at Plaza Supermarket (pictured).
Twitter is using spam-fighting technology to seek out and automatically flag accounts that might be promoting terrorist activity.
Levi Johnston says he makes nowhere near six figures like a 2010 child support order states. Now, he is asking a judge to lower his payments to Bristol Palin to be used for their 7-year-old son Tripp.
Dr. Hsiu-Ying 'Lisa' Tseng, 46, was sentenced to 30 years to life in prison Friday after at least three patients in her care died. She prescribed them with exorbitant amounts of painkillers.
Officials say that Andrea Tyrah Debruhl - who went by Tyrah - was found unconscious hanging from the playground around 1 p.m. Monday at the Newton County Theme School in Covington.
The Upper East Side six-level townhouse, which features six bedrooms, 14 bathrooms and Central Park views, was purchased in 2007 by real estate developer Keith Rubenstein and his wife Inga.
Kaylan Mahomes, a high school student from Indianapolis, took to Twitter last week to share a selfie featuring her twin Kyla and their mother, but the internet was stumped as to who is the mom.
A police union chief has taken to social media to blast the civilian vigilante who decided to give a police officer a piece of her mind on video after the Miami woman believed the cop was speeding.
NFL commissioner Roger Goodell would not only let a son play football he'd encourage it, the league frontman said in an interview which aired on Friday morning on Good Morning America.
Experts have branded the five day long Carnival celebrations (pictured) an 'explosive cocktail' for the spread of Zika because of the potent combination of heat, crowds and exposed skin
One of the officers was shot in the face just after 8pm and the other was shot in an arm on Thursday at a public housing complex in the Bronx, authorities said.
One of the officers was shot in the face just after 8pm and the other was shot in an arm on Thursday at a public housing complex in the Bronx, authorities said.
CCTV shows the suspect wearing the Nike Air Blue Mirror Foamposites (pictured) sneakers as he holds Wides Liquors in Englewood, New Jersey, at gunpoint.
A set of graphic photos that were leaked to the media this week purport to show the badly bruised face of makeup artist Holly Hartman after she was allegedly attacked by Taryn Manning in 2012.
Svetlana Vold, 33, gave birth to her daughter Yeva two months before Minnesota's annual Arrowhead 135 biking, running, and skiing race. She was still determined to participate.
People around the country are trying to pursue unique haircuts - often after lucky symbols - to make a bold statement of their personality. New haircuts are also seen as sign of good luck in the New Year.
Mother Monica Valdaz visited her son's grave in Dallas only to find that the site where she believed it to be was dug up. Valdez and her family are looking for answers from the funeral home.
A laptop computer may have hidden the explosives used to blow a hole in the side of a passenger jet flying over Somalia, investigators have said.
Briana Jungwirth's family have called in their lawyers after harassment from One Direction fans has intensified since she gave birth to Louis Tomlinson's son. She had him nearly two weeks ago.
Austin Lacey, an eighth grader at Ethan Chase Middle School in Menifee, donned a braided blonde wig and sparkling blue gown. He said his principal believed it 'attracted too much attention'.
The winner will take home $1m when AlphaGo squares off againstA the world's top-ranked player, South Korea's Lee Sedol, in a five game match starting in March 9th.
Ted Cruz, Marco Rubio, Rand Paul and Jeb Bush are all sporting the quarter-zip, which has now become almost a uniform for Republican candidates on the campaign trail, now in New Hampshire.
Born on Wednesday morning in Greenville Zoo, South Carolina, the little animal's arrival was witnessed by hundreds of people as it was streamed live on EarthCam .
In a Medium post, published just 24 hours after Uber's branding was unveiled, Andrew Crow explained that he is 'using our recent successes as a chance to take time off to rest, reflect, and recharge.'
In a speech from the balcony of the Ecuadorian embassy in Knightsbridge, London, Julian Assange has declared the UN report a 'victory of historical importance'.
A Minnesota man spent a year sending his wife videos of himself and his baby lip syncing to popular songs and has now compiled them in one adorable example of father and son fun.
The 38-year-old performer mixed up the two Super Bowl teams during Thursday's press conference as he joked about his band's lack of knowledge regarding the NFL.
With Johnny Manziel's career in doubt and his personal life crumbling, his father fears for his life. 'I truly believe if they can't get him help, he won't live to see his 24th birthday,' Paul Manziel said
Katie May, the 'Queen of Snapchat,' died on Thursday after suffering a stroke cause by a blocked artery which may have been caused by a fall during a photo shoot, it was revealed on Friday.
WARNING GRAPHIC LANGUAGE; The footage captures the Daniel Holtzclaw being questioned in Oklahoma.
Emojini uses learning algorithms and knowledge of imagery to guess the emoji that best describes your images. Simply upload a picture to the site and it delivers three emojis that capture the image.
Alana Duran, who has Lupus, used to spend 10 hours a night hooked up to a dialysis machine. Lori Interlicchio had only been dating her for two months when she found out she was a donor match.
Mother Nature played a joke on Donald Trump on Friday, sending a winter storm with heavy, wet snow into New Hampshire just four days before the crucial presidential primary election.
Suspect Charles White, 44, of LaFollette, Tennessee (pictured in his mug) turned himself in to police early Thursday after he allegedly stabbed another man on Wednesday evening.
A man in China has spent three years making a bra made out of jade. The artist says the wearable underwear aimed to give thanks to his mother. The bra contains jade, pearls and rubies.
Swimming pools can be a major source of gastrointestinal illness. Here, experts from Queensland and Murdock Universities reveal what bugs lie beneath the surface.
The spectacular images were created by New York-based artist Michael Benson, who mixes art with science. An image showing Mimas transiting Saturn's rings is pictured.
Noise from aircraft or busy roads has been shown to directly increase the risk of heart attack and stroke, says Stephen Stansfeld professor of psychiatry, Queen Mary University of London.
The former first daughter (pictured) had trying to criticize Sanders' support for legal immunity for gun-makers when she made the mistake, instead handing him the win, while talking in Minnesota.
Kiera Ford, an aspiring writer living in Texas, is chronicling the 'challenges and awkwardness' that comes along with being a 25-year-old virgin as part of her blog, Quarter Century Virgin.
Houston Texans defensive end J.J. Watt says the studies about what head trauma can do to NFL players doesn't shock him. The 26-year-old said players know it's a risk of the game.
Nada Merhi, 18, and Hassan Youssef, 27, married this week in the western Syrian city, which has been almost entirely destroyed during nearly five years of war.
The machine is seen crossing deep mountainous valleys as it connects the cities of Chengdu and Guizhou via a 1,376 km bridge designed for a special high-speed railway.
Twitter gets defensive as it faces a flurry of criticism over the use of its platform as a recruiting tool for ISIS.
The post Twitter Wants You to Know That It Is Fighting Terrorists appeared first on WIRED.
The Family Medical Leave Act celebrates its 23rd anniversary today. But, as a country, we still have a long way to go.
The post This Year May Be a Tipping Point for Paid Parental Leave appeared first on WIRED.
Nearly seven years after the Jane Austen-meets-the-undead novel became a literary phenomenon, the film is even more potent.
The post Pride and Prejudice and Zombies Is One Braaaaaaainy Mashup appeared first on WIRED.
Google and Visual Editions created a new kind of interactive mobile book.
The post Google's New Interactive E-Books Would Be Impossible to Print appeared first on WIRED.
Chris Kohler and Jake Muncy discuss how Nintendo is changing its remake of a "Zelda" game to be more inviting to players, and why "The Witness" isn't.
The post Game|Life Podcast: Twilight Princess Versus The Witness appeared first on WIRED.
Today, the Japanese volcano unleashed an impressive explosive eruption.
The post Sakurajima Lets Out a Spectacular Eruption After Months of Quiet appeared first on WIRED.
The LA-based singer/songwriter collaborated with a group of producers from around the country to make this track from her 2015 EP.
The post Song Exploder: Why Kelela Enlisted 5 Producers for 'Rewind' appeared first on WIRED.
Yesterday, engineers used pulleys to lower the first of five 504-foot long trusses from the old Bay Bridge onto two floating barges hundreds of feet below.
The post You Can't Just Blow Up Every Retired Bridge. Deploy the Barges! appeared first on WIRED.
Really. Really, really, really.
The post How to Watch the Super Bowl Without Cable appeared first on WIRED.
Or just skip the game entirely and head into the city's picturesque hills. Either way, we've got you covered.
The post Going to the Super Bowl? Here's What Else to Do in San Francisco appeared first on WIRED.
The biggest idea in the world of IT is access to Google-like infrastructure for all. That's great news for everyoneawell, almost everyone.
The post IBM Is Finally Embracing the CloudaIt Has No Other Choice appeared first on WIRED.
For Resonate, a festival about the culture of technology and art, two Pentagram designers created a geometric, mutable visual identity.
The post Pentagram's Punchy, Shapeshifting Typeface Takes Countless Forms appeared first on WIRED.
All it takes to fix a broken arm is a plate, 12 screws, and a printer.
The post How a 3-D Printer May Have Changed the Outcome of Super Bowl 50 appeared first on WIRED.
To work within a world of human drivers, self-driving cars have to go just a bit native.
The post The Case for Making Self-Driving Cars Think Like Humans appeared first on WIRED.
Earlier this year, Stockton started adding chloramines to its water supply, a chemical additive many residents fear is poisoning the well.
The post Erin Brockovich Thinks This California City Is the Next Flint appeared first on WIRED.
Solenodons areA one of just a handful of mammals with venom glands that deliver a powerful toxin.
The post Absurd Creature of the Week: The Mystery of Solenodon, the Mammal That Bites Like a Snake appeared first on WIRED.
As China's economy slows, Internet giant Alibaba has reason to worry. So it's making sure as many of its 1.3 billion people as possible can shop online.
The post In 'Communist' China, Alibaba Is Training People to Shop Online appeared first on WIRED.
Lala Abaddon's colorful photos look like digital art, except they're made by hand on a loom.
The post Forget Photoshop: Just Weave Photos Together With a Loom appeared first on WIRED.
A UN body has determined that UK and Swedish authorities have unlawfully detained the WikiLeaks founder in the Ecuadorean embassy, where he has been living in asylum since 2012 to avoid arrest.
The post Julian Assange's 3.5 Year Detainment in Embassy Ruled Unlawful appeared first on WIRED.
You've learned to accept the fact that you will never, ever be posting a picture of them at a party on social media again.
You understand that there are certain places in public that you cannot go because your BFF doesn't want to run into any students.
FOX
You pretty much always know exactly which co-worker upset your BFF during their prep period on any given day.
NBC
You know so much about their students that you feel as if you've met them personally.
Sony Pictures
And you are so familiar with the names of the students that cause them pain that you've started to have negative feelings toward everyone named "Justin."
Sony Pictures
---
Cats need "me time" too.
"Yes Netflix, I am still watching but I certainly won't continue to if you're going to be all judgemental".
"You know what Kirsty? I'm done with that guy's bullshit. I'm going to enjoy my evening, maybe even go on Tinder".
"Someone from work ate my lunch. They took it from the fridge and ate it. I work with savages, Linda. Who does that, I mean really?"
"I would much prefer my Pinot Gris if I was able to enjoy it in peace."
---
"Watching the show is equivalent to curling up in bed with a good book on a rainy day."
There are so many things to love about the perfection of a show that is Gilmore Girls.
Warner Bros. Television
And one fan of the TV series, Amy, felt so inspired that she created these vintage-looking posters based on quotes, scenes, and characters.
Amy, who told BuzzFeed she only wanted to be called by her first name, explained that Gilmore Girls is a major source of comfort for her.
"Watching the show is equivalent to curling up in bed with a good book on a rainy day," she said. "I watch the series from start to finish at least twice every year, and I always cry during the series finale. Whenever it ends, I feel like I'm saying goodbye to old friends."
Photo courtesy of WindowShopGal
Amy's favorite Gilmore Girls character is actually the town of Stars Hollow itself.
"I love how the show revolves around the town events. It makes you feel like you're really a part of the community," she said. "The only way to visit Stars Hollow is to simply play an episode of Gilmore Girls, and you're there."
Photo courtesy of WindowShopGal
"I really love the look of old travel posters and advertisements from the 1930s through the 1960s, so my designs are vintage-inspired and the kind of fan art that I hope a non-fan would also appreciate," Amy told BuzzFeed.
"If a fan recognizes the reference, then it's like a secret handshake!"
Photo courtesy of WindowShopGal
---
Only 41 more days...but who's counting?!
So MAC is about to launch some bomb-ass makeup, and that's not even the best part.
Their new "Future Forward" campaign features a bunch of amazing artists like Tinashe, Halsey, Dej Loaf, and Lion Babe.
Launching March 17, Future Forward is the start of a collaborative series that spotlights rising artists on the music scene and partners with them to develop their own signature products for the brand.
THIS IS THE PART WHERE YOU SCREAM AND LOSE YOUR WHOLE MIND!
The products will only be available online, so set an iCal event for MACCosmetics.com.
Tinashe will kick off the launch with her own eye shadow palette.
Available March 17.
MAC Cosmetics
---
Get ready for a bunch of close-up pictures of my forehead.
Jenny Chang for BuzzFeed
Mathew Jedeikin for BuzzFeed
Mathew Jedeikin for BuzzFeed
---
Just try to tell this mom and her daughters apart.
Take a good look at this picture.
It looks like three sisters, right? WRONG.
The image, posted by Kaylan Mahomes, of Indianapolis, IN, is actually of Kaylan, her twin sister Kyla, and her mom.
LOL WHAT.
---
From a whole bottle of wine in Hungary to a single slice of bread in Hong Kong.
Hungary a a whole bottle of wine
--Anna Csepanyi, Facebook
Flickr / Creative Commons / Flickr: maitsetv
Hong Kong a one slice of plain bread
--Katie Chan, Facebook
Flickr / Creative Commons / Flickr: lierne
Netherlands a 10 pancakes at the supermarket
---
They cheated the entire time.
When you put George Clooney and Channing Tatum in a room together, you're pretty much guaranteed a good time. We gave the Hail, Caesar! stars a test to see how well they really know each other and basically ended up with pure magic.
As soon as we mentioned the test, George a like a damn boss a knew EXACTLY what we were doing.
LET'S. BEGIN.
BuzzFeed
What's the first thing George thought when meeting Channing?
Channing: What did he think of me? OK, I got it.
BuzzFeed
Annnnnd FLIP!
George: Fuck him!
Channing: Meatloaf.
BuzzFeed
---
If you ain't from Jersey, fugettaboutit!
Prove that the world doesn't revolve around football. It revolves around you.
Jon Premousch / Alice Mongkongllite / Buzzfeed
Why not take control of the situation and host your very own party? A party that can focus on something you love more than anything else in the world, including the Broncos or the Panthers? I'm talking about YOU! After all, January was the most depressing month of the year, and you deserve to be pampered with attention. Here's how you can take control, you attention-whortle.
Over your TV, place a larger portrait of yourself to watch over your guests.
Jon Premosch / Buzzfeed
Spell your name in all the food:
Jon Premosch / Buzzfeed
---
Dinner is literally carbs with a side of carbs.
This is Sanya Richards-Ross.
She's 31 years old, lives in Austin, Texas, and is a world champion sprinter who trains hard to be very fast. Also, she loves rum raisin ice cream, cheese pizza, and Skittles. But more on that later.
instagram.com / Via Instagram: @sanyarichiross
At the moment she's training to qualify for the 2016 Olympic Games.
She's already won four Olympic medals: Two golds in the 4x400 relay and one gold and one bronze in the 400-meter sprint. She was previously ranked the best 400-meter sprinter in the world.
instagram.com / Via Instagram: @sanyarichiross
So how does someone run 400 meters (a quarter mile) in 48.7 seconds?
BuzzFeed Health talked to Richards-Ross to learn about how she's preparing for the Olympic trials, which take place in July.
Andy Lyons / Getty Images
---
97% Rick Santorum. 98% Marco Rubio.
This week, after a poor showing at the Iowa caucuses, Sen. Rick Santorum dropped his presidential bid and endorsed Florida Sen. Marco Rubio.
Brendan Hoffman / Getty Images
Santorum took the quiz on the website "ISideWith.Com" Santorum revealed he scored 97% Santorum, but here's the catch....
Via isidewith.com
---
A street in Burundi, where Rukundo was kidnapped by her boyfriend's hitmen.
Jean Pierre Harerimana / Reuters
Balenga Kalala was saying goodbye to the last visitors at his partner's funeral when he saw what he thought was a ghost. Noela Rukundo -- the mother of his children, the woman people were there to mourn -- was standing right outside their house in Melbourne, Australia.
"Surprise!" said Rukundo, according to an interview that aired Friday on the BBC. "I'm still alive!"
Kalala had told his friends and neighbors that Rukundo had died in a terrible accident while visiting relatives in her native Burundi. But on Dec. 11, nearly a year after Rukundo showed up to her own funeral, the Supreme Court of Victoria at Melbourne sentenced Kalala to nine years in prison. The charge: inciting his partner's murder by paying a team of hitmen to take her out.
The hitmen, however, turned out to have more scruples than Kalala anticipated.
The bizarre story began 2004, when Kalala, originally from the Democratic Republic of the Congo, arrived in Australia as a refugee. Court records show that he fled his country after rebels invaded his village, killing his first wife and child. He settled in Melbourne, where he took a job in seafood processing and enrolled in English language classes.
Eventually, he became so good at the language that he started to act as a Swahili translator for his social worker, according to the BBC. It was through that social worker that he met Rukundo. The two fell in love and moved in together. They eventually had three children -- plus the five kids Rukundo had from a previous marriage.
The couple lived what Chief Justice Marilyn Warren described in her sentencing statement as "a fairly happy relationship." But then, last January, Rukundo went back to Burundi to attend her stepmother's funeral -- and things took a turn for the worse. One of Kalala's friends told him she was seeing another man in Burundi.
There was never any proof, but Kalala became violently jealous. Court records state that on Feb. 17 last year, he got in touch with a friend in Burundi and wired him $3,400 AUD -- about $2,400 USD -- to have her killed.
So that she wouldn't suspect anything, Kalala stayed in touch with Rukundo as he planned her murder. On the day that she was supposed to be killed, court records show, he called her at her hotel room and suggested to her that she should go for a walk to beat the heat.
The moment Rukundo stepped out of the hotel, she was approached by a man with a gun. He forced her into a car, where he and two others covered her face with a dark hood and drove her away, court records show.
Later that day, the kidnappers removed the hood and told her that her partner had paid them to have her killed. According to the BBC, they even called him on speakerphone to tell him that they had caught her.
"Kill her," Kalala reportedly told the kidnappers over the phone.
The hitmen, however, told Rukundo they were not actually going to kill her, court records state. They said they didn't want to kill a woman and that, since they knew her brother, they didn't really want to harm her.
Court records state that the kidnappers held Rukundo for a few more days. During that time, they called Kalala and told him they had completed the job. They asked for more money, and he wired them another $3,400 AUD, records show.
Kalala, the sentencing papers say, thanked the hitmen and told them they had become "like family" to him.
The kidnappers eventually released Rukundo. They handed her the wire transfer receipts that showed Kalala had paid them, as well as a memory card with the record of their telephone conversations.
With the help of her brother, Rukundo returned to Australia and confronted Kalala at her own funeral. According to court records, Kalala originally denied his involvement in the scheme -- but eventually confessed to his church pastor and, later, to the authorities. He was taken to prison on March 2, where he has remained ever since.
Rokundo's troubles, however, were far from over. Court records and her interview with the BBC show that she has faced backlash from her community, many of whom blame her for putting Kalala behind bars.
Rukundo, however, says she is not bothered by the gossip.
"I will stand up like a strong woman," Rukundo told the BBC. "My situation, my past life? That is gone. I'm starting a new life."
Read Kalala's entire sentencing document here
Dim those lights as low as you want.
Confess by Colleen Hoover
When Auburn Reed gets a job at a big-time Dallas art studio, she doesn't plan on falling for artist Owen Gentry. She knows it's a big risk to be with him, but she does it anyway -- only to find out his secret past could threaten their future.
Quote: "He kisses me like he's giving me every kiss he wishes he could have given me the past, and every kiss he'll wish he could give me in the future. All at once."
Simon and Schuster / yennyzhka / instagram.com
The Immortals After Dark series continues with (super sexy) immortal assassins, outcast orphans, vampires, and possible spies crossing paths.
Quote: "When two people form an unbreakable bond, it's like a reactor, feeding them power and heat and a sense of belonging. It makes them strong. They're the true superheroes."
Gallery Books / heartlesspage / instagram.com
Carry On by Rainbow Rowell
Carry On is the tamest title on the list, for sure, but the YA fantasy is plenty sweet. Simon Snow, the "Chosen One," is having a rough go of it: his girlfriend broke up with him, his mentor is letting him down, he can't get his magic quite right, and the evil vampire Baz (who is Simon's nemesis, but who also has a crush on Simon) is MIA. There's a lot of kissing.
Quote: "Sharing a room with the person you want most is like sharing a room with an open fire. He's constantly drawing you in. And you're constantly stepping too close. And you know it's not good -- that there is no good -- that there's absolutely nothing that can ever come of it."
istikus / instagram.com
---
The Puppy Predictors are back!
Just days away from Super Bowl 50, it was time for Jimmy Fallon to bring out his Puppy Predictors.
The nine puppies a Brad, Kyle, Mary, Ted, Donna, Peter, Roger, Lisa, and Gary a had one task and one task only: predict the winner of Super Bowl 50.
NBC / Via youtube.com
With two bowls of kibble laid out before them, the puppies had to choose between the Carolina Panthers' bowl and the Denver Broncos' bowl.
Whichever bowl attracts the most puppies is the winner!
NBC / Via youtube.com
At last, the puppy panel made their way towards the kibble.
NBC / Via youtube.com
---
"I sharted and then proceeded to vomit all over the stage and the person I was auditioning with."
A director friend of mine likes to talk about a woman who came into an audition wearing a long skirt. She performed a song with a big belt at the end, and when she got to it her tampon shot out and hit the floor. He swears that really happened.
- Colleen Robinson, Facebook
One of my first non-school auditions, I auditioned for Prospero in The Tempest and had to do the scene where Prospero is scolding Calaban, an intense, angry scene. I felt a little chill on my body, but figured it was my adrenaline running high. After I got off stage, I realized my jeans had ripped right at the back pocket, exposing a good portion of my ass. I still got the part. It also taught me to dress like a professional for every other audition.
- Krystal Watanabe, Facebook
I went to a theatre I'd never been before where everyone else at the audition had been taking dance lessons for years. At the dance part of the audition, in the midst of trying to figure out the dance and the other girls moving flawlessly, I tripped and fell. I sprained my ankle, and I was on the ground crying while no one made any acknowledgement of my existence.
---
It's a deeply-held belief, right?
If Ontario's human rights tribunal protects those with deeply-held religious beliefs, why not ethical beliefs too? Say, for example, veganism.
Saritwuttisan / Getty Images
That's what the folks at Animal Justice, a Canadian animal law organization, have spent years fighting for.
Last year, the Ontario Human Rights Commission released updated guidelines on preventing discrimination based on "creed." Although it has no official definition in the human rights code, the commission said:
Creed may also include non-religious belief systems that,
like religion, substantially influence a person's identity, worldview and way of life.
Arguably, that's the case for some people who abstain from animal meat and byproducts due to ethical beliefs.
"Their policy contains exactly what we were hoping for. They said creed can also include ethical beliefs that are very important to a person," said Camille Labchuk, an animal rights lawyer and executive director of Animal Justice.
There have already been incidents where vegans have faced discrimination, she added.
A number of years ago, Labchuk said Animal Justice assisted an Ontario veterinary student who refused to euthanize a dog she had spayed as part of her training.
"She had a major problem with this because she was an ethical vegan. she went to vet school to help animals, not to kill them," Labchuk told BuzzFeed Canada.
Though the student was told she would not be allowed to graduate, the school backed down after Animal Justice got involved.
Hypothetically, Labchuk said a high school student asked to dissect a frog or an employee given a uniform made of leather or fur would face similar discrimination.
"If he or she disagrees with using animals for clothing then obviously there needs to be some protection so they don't have to wear animal products," she said.
Ultimately, it's up to the Human Rights Tribunal to interpret "creed" does and does not include, but Animal Justice is hopeful that ethical vegans will be included.
"It's important because people have these beliefs," said Labchuk. "Fundamentally, the reason people choose to live their lives this way is to protect the most vulnerable members of our society, which are animals."
Courtesy of Camille Labchuk
If you live in one of the five boroughs, this should be easy.
A bra is a purse, a crumb catcher, but most of all, the ultimate booby trap.
When your bra tries to stab you.
Punctured boob AND you can no longer wear that bra.
Remee Patel / emojistickers.com
And when it gives you horrible, sore strap burns.
Instagram: @allykatswonderland
When your bra acts as storage for leftovers.
Or as an extra safe purse.
Michaeljung / Getty Images
---
Theo Wargo / Getty. Andrew Richard / BuzzFeed

1. What's the first thing you do when you wake up in the morning?
Pray. Doesn't always happen but it's definitely a better day if it does.
2. What's the one word you are guilty of using too often?
"Like." When I hear an interview that I've done and I've said "like" a bunch of times it just cheapens the sentiment.
3. What is the last thing you searched for on Google?
Bulldog babies video. Me and the lady watched them in Apple TV. They were amazing.
4. Who is the last person that called or texted you?
I just got off the phone with a songwriter friend Andrew Ripp. We consoled each other of how freaking hard it is to write a truly great song.
5. What's the wallpaper on your phone and/or computer?
A super cute pic of the Mrs.
6. What is your TV guilty pleasure?
I love me some Family Guy.
7. What's the first CD you bought?
The Miseducation of Lauryn Hill. If you're a youngster do yourself a favor and get into it.
8. And what music are you currently listening to?
The new Coldplay, Emily King, Anderson Paak.
9. What is the one food you cannot resist?
Pizza. I'm from New York so I'm simultaneously a snob and will also eat any pizza you put in front of me
Andrew Richard / BuzzFeed
10. What movie makes you laugh the most?
Shanghai Noon. Owen Wilson + Jackie Chan = me loving that movie.
11. What toppings do you like on your pizza?
None. Just cheese. Easy with the pineapple, California.
12. What drives you absolutely crazy?
When a rest stop attendant says, "We don't have a bathroom here." You're lying and you know it.
13. What was your first online screen name?
Allball74 - I was a super jock in high school.
14. What's the last thing you copied & pasted on your phone?
Lyrics. I wanted to see if they were better to close with then to open with.
15. What's your favorite curse word?
Fuck
16. What's your favorite emoji?
17. Pick one: Kittens or puppies?

Puppies
Andrew Richard / BuzzFeed
18. New York or Los Angeles?
Los Angeles
19. Twitter or Instagram?
Instagram
20. Bacon or Nutella?
Nutella - the question could be "Life or Nutella?" and I would still pick Nutella.
21. Britney or Christina?
Christina
22. Coffee or tea?
Coffee
23. NSYNC or BSB?
Nsync - JT is the real deal.
24. Beyonce or Rihanna?
Beyonce
25. Netflix and chill or just Netflix?
Definitely Netflix and chill is better then just Netflix.
26. Hannah Montana or Lizzie McGuire?
Couldn't tell ya.
27. And finally: tell us a secret.
I love magic. Like pull a scarf out of your fake thumb magic. I have a legit bag of "Magic Stuff" in my garage.
Andrew Richard / BuzzFeed
Andy's latest single "Good To Be Alive (Hallelujah)" off of his deluxe sophomore album Magazines or Novels is available now on iTunes!
New week, new MAC collaboration -- and this one is pretty darn exciting.
For the new line "Future Forward," the makeup brand tapped young musical talents Tinashe, Dej Loaf, Halsey and Lion Babe to collaborate on products. A departure from partnering with blockbuster stars like Rihanna and Mariah Carey, the #MACFutureForward campaign celebrates the fact that beauty not only comes in many shades, but from different corners of life.
Expect an exciting lipglass, bold gold liquid eyeliner, a new blue lipstick, and a pop-powered eye palette, according to a press release from MAC's senior vice president and group creative director James Gager:



Tinashe is more of an eye girl so she knew right away she wanted to do an eye shadow palette. Halsey had this striking blue hair and really liked that blue-ish, grey lipstick tone, a bit 90's. Lionbabe has a lioness persona with her voluminous golden mane. A metallic gold eye liner fits her perfectly. Dej Loaf prefers a more minimal makeup look so the shimmery, versatile lipglass worked for her. Each of their personalities are fully expressed in their product.



All of the artists' products will be sold exclusively online (wink wink, like Kylie Jenner's Lip Kit), and they all have different release dates. While MAC has yet to provide pricing information, go ahead and take a look at the campaign photos and product release dates below:
Also on HuffPost:
-- This feed and its contents are the property of The Huffington Post, and use is subject to our terms. It may be used for personal consumption, but may not be distributed on a website.
As much as you'd all love to say you woke up like this:
The reality looks a lot more like this:
Whether you're a morning person or not, looking perked up and pulled together isn't always an easy task in the AM. Or is it?
With a splash of water to your face, a flip of your hair and a brightly colored blouse you'll be ready to take on the world.
We've curated a list of go-to hacks -- no makeup required -- that will get you out the door feeling flawless, or pretty damn close to it.
1. Splash ice water on your face.
It's the oldest trick in the book, and it works. Fill your sink with the coldest water possible, add a few ice cubes to get the temperature down even more, and splash the water on your face. It instantly tightens pores and shrinks little capillaries, making your skin appear more even. Plus, it makes you feel more awake, which will definitely affect the way you look.
2. Hit the gym.
Nothing will make you look and feel more awake than exercise. Go for a quick walk, hop on the elliptical machine, or do a few rounds of Sun Salutations. Any exercise that gets your heart rate up is great. When your blood is pumping and your endorphin levels increase, you'll have more energy. Plus, it adds some color to your cheeks--no blush required.
3. Head to your kitchen.
If bags under your eyes are a problem, take a trip to your kitchen. Put two spoons in the freezer for 10 minutes, and then apply one to each eye while you recline on the couch. The cold helps calm inflammation. Cold cucumber slices work in a similar way. Relax with a slice on each eye for five to 10 minutes to relieve irritation, redness, and puffiness.
4. Flip upside down.
For a 10-second hair fix, bend at the waist and flip your hair upside down. Use your fingertips to scrunch your strands at the roots, reviving your texture and volume. This trick has the added bonus of rushing some blood to your face, making your cheeks look pink and vibrant.
5. Hydrate, hydrate, hydrate.
Dehydration is one of the worst offenders when it comes to looking tired. Skin looks gray or sallow and wrinkles become more prominent when you haven't had enough water. To plump up your cells, simply increase your water intake. Aim for eight glasses per day.
6. Wear color.
Black may be slimming, but it doesn't help you look more awake. On days you're tired, skip the black top and wear your favorite skin tone-flattering color. It will instantly make your face appear brighter and less tired.
Also on HuffPost:
Are you ready to start taking better care of yourself? Sign up for our newsletter and join our Look Good, Feel Good challenge to supercharge your beauty and grooming routine and develop healthy habits. We'll deliver tips, challenges and advice to your inbox every day.
-- This feed and its contents are the property of The Huffington Post, and use is subject to our terms. It may be used for personal consumption, but may not be distributed on a website.
One woman gave Barbie a gorgeous new look, making for a uniquely fierce fashion plate.
Haneefah Adam, a 24-year-old who lives in Nigeria, runs an Instagram account called "Hijarbie." The account features a Barbie doll dressed up in what Adam describes as "mini hijab fashion," wearing modest outfits along with a hijab.
Hijarbie was started about two months ago and now boasts more than 12,500 followers, as of Friday afternoon. Adam says she hopes her account will resonate with Muslim girls and boost their confidence when they see a toy resembling their appearance.
"At the end of the day, it will create a sense of value and will be inspiring them to be more confident, more driven, to believe more in themselves which leads to an appreciation of herself and her modest lifestyle and upbringing,"Adam said, according to BuzzFeed News.
The 24-year-old, who is preparing to launch a lifestyle brand called "Hanie" on top of running Hijarbie, sews all of the trendy doll's outfits herself, often using Muslim fashion bloggers as her inspiration, according to Mic.com.
Adam decided to create the Instagram account after looking through another social media account, Barbie Style, which features the doll in a range of settings and looks, she told Mic.com. The 24-year-old, who was in the U.K. studying for her master's degree at the time, said the photos had quite an effect on her.
"It got me thinking about how I'd actually like to see a doll dressed up like I would have -- covered up," Adam told Mic.
When she returned to Nigeria a few months later, she purchased a Barbie doll to carry out her idea and the rest is history.
While some have asked why her page doesn't feature more racially diverse dolls, she assures that a few will be on the way.
"The simple truth is, I couldn't find the different types in Nigeria," she wrote on her Instagram account. "I'd have loved to dress up a black doll myself, too. I've ordered for some internationally and they'll soon be here."
Ultimately, the 24-year-old says that so far she's received an outpouring of support for the project.
"It's a hit with a lot of parents and older girls [who] wish they had it to play with when they were kids," she told Today.com. "Hijarbie is a style star in her own right."
Also on HuffPost:
-- This feed and its contents are the property of The Huffington Post, and use is subject to our terms. It may be used for personal consumption, but may not be distributed on a website.
Vivian Bucay is a dermatologist in San Antonio and a melanoma survivor whose disease progressed from stage 3 to stage 4 in a matter of months. Here, she shares her story.
As told to Elizabeth Siegel, Allure
Vivan Bucay photographed by Marie Langmore
The possibility of cancer wasn't on my radar. Ironic, I know, since I'm a dermatologist. But when I was 45, I had some dryness in my belly button. I wear dark clothing, and one day, when I took my shirt off, I saw a white residue. I didn't see a lesion of any kind, so I thought it was
eczema
or psoriasis, which can happen in that area. But it didn't go away, and I didn't know what it was, so a few weeks later I thought, I guess I'd better biopsy it. I did a biopsy on a Friday, and the following Wednesday, I got a call from the pathologist. He said, "I'm afraid it's a
melanoma
, and it's probably metastatic." I said, "Can you wait a second? Let me go pull the chart." And he's like, "No, I'm talking about you." I had this really hot sensation in my body, like blood was just draining from me. The first thing I did was pick up the phone and call my husband. The second thing I did was call the surgical oncologist to whom I refer everybody. I was in his office that same afternoon by 2 p.m., making a plan. There's not a whole lot of time to think. You have to just do.
I was shocked but grateful I'd biopsied it. My husband--he's a cardiologist--jokes that he would have totally ignored his belly button. He would have just kept putting baby powder on. But as a dermatologist, I did what I always do when there's something strange. My case is proof that melanomas don't have to be dark moles, and they can happen anywhere. I certainly think my history of sunburns as a teenager contributed--I laid out in the sun every chance I could, starting in my early teens. I quit doing that around the age of 21, when I knew I wanted to be a dermatologist.
I had a wide excision and a sentinel node biopsy and found out that the melanoma had spread to my right groin. I opted for a really long surgery called a radical groin dissection, during which all of the lymph nodes in the area are removed. I think there were 27 or 28 lymph nodes I eventually had removed, so now I have some permanent tendency for swelling in my right leg. I was good about wearing a nasty, giant support stocking for the first five years, but now I'm like, OK, I can't wear those day and night.
I had to take six weeks off after the surgery--my doctors didn't want me to work--but then I went right back to seeing patients. I also started Interferon treatments, which boost the immune system and theoretically help slow cancerous growth. In all the years doctors have been prescribing Interferon, they haven't found that it actually increases survival rates, but I was a stage-three patient, and that was the only adjunctive therapy available at the time. It made me feel like I was taking charge and taking control.
Months later, I also entered a clinical trial for an immune-treatment drug called Ipilimumab, which has since been approved. (Being a doctor is a double-edged sword, because you know just how bad it can be, but you also have really quick access to things.) Routine body scans were part of the protocol, and after one of these, the radiologist called me immediately to say, "Are you feeling OK? Are you having any breathing problems?" And I'm like, "No, why? I'm perfectly fine." And she said, "No, it looks like both of your lungs are just flooded with melanoma." I didn't completely believe her. Everyone gets rashes with these drugs. I thought I had the equivalent of a rash but inside my lungs. They told me I'd need to have a lung biopsy to continue in the trial and prove that it was not melanoma. So two days after my younger daughter's bat mitvah, I had the biopsy, and it was positive for melanoma.
Everything had started in May, and now, by the following January, I'd progressed to stage 4 melanoma and been dropped from the trial. I had gone from having a 50/50 chance of living for five years to a dismal prognosis: My chances of long-term survival were down to 3 percent, but I decided not to pay attention to the statistics. I made an appointment at the National Cancer Institute to see Dr. Steven Rosenberg, who is the world's authority on melanoma. I wanted to join another trial, but the National Cancer Institute told me I couldn't until I'd exhausted every other avenue of fighting the cancer. First, I had to do Interleukin-2, a form of chemotherapy that's so toxic you have to stay in the hospital to take the medication. I'd spend a week in the ICU getting the drug, then check out and go to work. It's a last resort, because it really drops your blood pressure and it makes all of your blood vessels leak. Your kidneys can shut down. Your lungs can flood. I would get rashes. I would literally gain 15 pounds overnight. But it felt like a small price to pay.
Interleukin-2 has just a 6 percent success rate, and not everybody can tolerate it. There are 14 doses, and if you can't hold a dose--you get to sick too keep going--you can't make it up. I was determined to hold all 14 doses, particularly after my first-round scan in April showed that I was responding. That summer, I had a long wait to find out whether it had worked. On August 1, 2007, I had my follow-up scans and the news was really good: My lungs were clear, and there was no cancer. I'm just one of the really lucky ones.
For me, it was very motivating to have three young girls to take care of. If my daughters ever did get a sense of my being sick or if they were worried, my line to them was always, "Nope! I'm tough. And I will dance at your weddings." Hopefully, one of these days one of them will get married, so I can actually fulfill that promise. Good lord, I'm not getting any younger here. When I first got the news, my husband was so panic-stricken and nervous and emotional. I said, "The one thing I can't afford to do is be worried about you all being worried about me. So let me just handle this. I'm going to be fine." I mean, you do and say stuff that sounds so corny.
Now I'm down to getting checkups once a year. And I do try to think about what I'm eating. You know, I've read so much about diet, and acid environments are favorable for the growth of cancer cells. So I eat more alkaline foods, like green vegetables, and I add lemon to water (lemon is an acid outside the body but once it's metabolized, it's alkaline). More than anything else, I want to say to anybody who gets a bad diagnosis, don't be afraid to let others help you. It's good to have a sense of community. I'm in touch with people from around the country who have reached out to me. My mother is a cancer survivor, as well--I had her example. She doesn't give up on things. I don't think there is anything wrong with being afraid, but hope is one of those things that nobody has the right to take away from you. When doctors say, "No, there is nothing we can do for this" or "Get your affairs in order," that's just not true. It ain't over until it's over.
More from Allure:
Find the Best Haircut for Your Face Shape
The 10 Best Drugstore Mascaras Under $20
50 New Drugstore Beauty Products We're Obsessed With
20 Celebrities Who Look Surprisingly Different Without Their Signature Looks
The 6 Prettiest Haircuts for Long Hair
51 New Hair Ideas to Try in 2016
-- This feed and its contents are the property of The Huffington Post, and use is subject to our terms. It may be used for personal consumption, but may not be distributed on a website.
By Leah Melby, Glamour
At this point, it's become abundantly clear that the entire
Kardashian-Jenner family
is full of moguls. The youngest of the bunch,
Kendall
and
Kylie Jenner
, have been busy with an assortment of professional gigs--a major campaign here, a best-selling lip kit there--and the duo is now pairing up for Kendall + Kylie, a new contemporary line of clothing and shoes that's retailing at stores like Neiman Marcus, Saks Fifth Avenue, and Shopbop (prices start at $68 and range to $498).
If you glimpsed at the spring collection blindly, without a clue of which celebrity names were attached, chances are you'd still be able to make a good guess at who's driving the bus. It's got all sorts of Kardashian closet essentials, from curve-hugging dresses to
crop tops
and trendy, model-of-the-moment-style pieces. All of it looks like an easy way to slip into Kardashian-dom, and when you're presented with an opportunity like that, you seize it.
I played at being a member of the fam earlier this week, borrowing some of the new pieces and giving them a whirl around
Glamour
headquarters. Maintaining the Kardashian ethos was paramount, but it was important for me to imbue some of my own style too--it's an approach I can't help but think the sisters (and
#Proudmama momager Kris Jenner
) would insist on. The aim wasn't to
be
Kendall or Kylie; rather, I wanted to see how being a member of the family, sartorially speaking, would feel.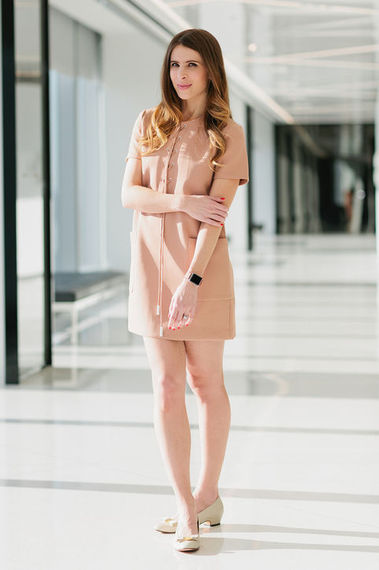 Kendall + Kylie dress, writer's own shoes
This '70s-inspired boxy mini felt totally Kendall-on-duty, and it was a good one to pull on first since the heavy material conveyed a tactile sense of luxury (read: the range doesn't feel cheap). While the model's typical style is
more about athleisure
and high-waisted skinny jeans, I felt like I was living one of the countless campaign images she's posed for. The hemline and lace-up neckline count this one out as a work option, but it would definitely be cute for shopping or dinner.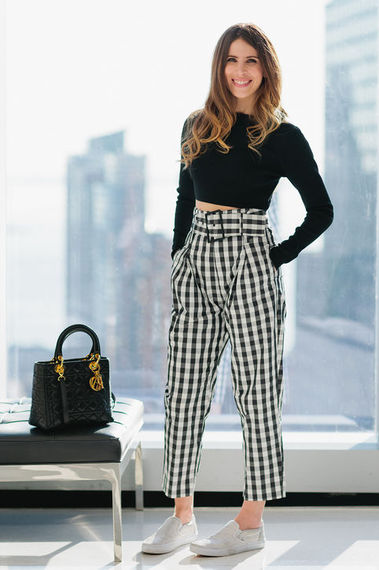 Kendall + Kylie top $138, nordstrom.com, pants, $148, neimanmarcus.com, writer's own shoes, bag
A matched gingham set was too loud for me, an average civilian not used to a reality TV crew and paparazzi flashbulbs (I'm guessing this is one of the "surprise statement pieces" Kylie alluded to in the press release). I watered it down by mixing in a long-sleeve crop top that's paired with a matching pencil skirt in look book images, and while it looked good, this was a dangerous outfit. One wrong arm move and things would get inappropriate; plus, the top is actually totally backless, necessitating a bra-less moment and flashing a lot of skin. Beyond taking a selfie or Snapchatting, wearing this outfit would be tricky IRL.
Kendall + Kylie dress, $198, nordstrom.com, shoes, $150, saks.com, writer's own bag, sunglasses
I completely surprised myself by favoring this curve-flaunting dress the most, but it might make sense as
the Kardashians are masters of sexy date-night dressing
. The below-the-knee hemline is one Kim actually wears a lot, and the extra coverage was perfect for tempering the snug fit and lace-up detailing on the side (check out that scandalous detail heading down my right leg). The fabric was
soft
too, a factor I don't often associate with body-con styles but happily welcomed. As a final Jenner-Kardashian touch, the mules were perfect, and it's not hard to understand why the oft-photographed girls included these in the debut collection. The blush color combined with the high vamp made for the ultimate in leg-lengthening.
The last look attracted the most attention from tourists and building workers positioned outside our offices. Therein lies the biggest takeaway from the girl's collection too: It's all good at helping get some K or K into your closet, but if you're looking for one style to put in your shopping cart, pick one of the simple-but-sexy basics done in a neutral hue. It's timeless, Kardashian,
and
timeless Kardashian.
Photos: Katie Friedman
More from Glamour:
10 Things He's Thinking When You're Naked
46 Brand-New Wedding Dresses That Will Make Your Heart Sing
30 Sex Tips Every Woman Should Consider by the Time She's 30
14 Seriously Cute Hairstyles for Curly Hair
8 Super-Easy Steps for Looking Flawless -- Fast!
What Guys Really Think About Your Underwear
-- This feed and its contents are the property of The Huffington Post, and use is subject to our terms. It may be used for personal consumption, but may not be distributed on a website.
6:30 p.m. ET. On CBS.
Also on HuffPost:
-- This feed and its contents are the property of The Huffington Post, and use is subject to our terms. It may be used for personal consumption, but may not be distributed on a website.
Piers Morgan is under fire on social media this week after tweeting about Susan Sarandon's much buzzed about suit-and-bra look at the SAG Awards, where she was on hand to present the annual "In Memoriam" tribute.
"Would Susan Sarandon wear this to a funeral? No. It was thus horribly inappropriate for an In Memoriam tribute," he quipped.
Sarandon promptly fired back (like the badass she is) with a pointedly appropriate #TBT featuring the actress in, you guessed it, a bra.
Women all over Twitter came to Sarandon's defense by tweeting photos of their cleavage to Morgan, creating what some people, Morgan included, are calling #cleavagegate.
On Thursday, in an attempt to clarify his statement, Morgan claimed he was not commenting on Sarandon's "magnificent" cleavage, but thought she should "keep it hidden" for such occasions.
But here's the thing, Piers. Susan Sarandon doesn't need your help picking out an outfit for a funeral, for an awards show, or for anything else. In fact, no woman needs your advice, or your Twitter commentary, on any outfit. If they feel beautiful and happy in something, it's not up to you to decide its appropriateness.
No matter who she is or where she's going, no woman needs anyone else -- whether a man or another woman -- to decide if she should or should not wear it.
Also on HuffPost:
-- This feed and its contents are the property of The Huffington Post, and use is subject to our terms. It may be used for personal consumption, but may not be distributed on a website.
Coming into a new decade of life often prompts a certain amount of dread, whether you feel obliged to inventory your accomplishments or simply give in to the age-old (pun intended) fear that your birthdate suddenly makes you out of touch, washed-up or just plain old. The effect seems even more pronounced for women, after a lifetime of receiving messages that laud youth and beauty.
Creative director Catherine Gray's "40years40jumpsuits" Instagram proves that there's no reason to give into the cultural idea that with age, comes irrelevance. "In my mid- to late 30s," Gray explained over email, "I hated the idea of turning 40, because of thoughts about the biological clock. That's obviously a real thing, but I realize, looking back, that it was more the idea of what society puts on women when they approach their 30s and beyond."
Instead of shrinking at the idea of turning 40, Gray did the opposite: proudly declaring her age while posing in a series of jumpsuits, a classically loud, unabashed piece of clothing that requires its wearer to totally own her look. Scrolling through Gray's feed, it's impossible to view it as anything but a celebration. In one shot, she poses with a plastic flamingo. In another, she lunges with a tennis racket to honor her outfit's athletic vibes.
"I bought my first jumpsuit aged 39 and loved how I felt in it. I think jumpsuits are a symbol of confidence, because you have to be confident to wear it, I suppose," Gray said. Without realizing, she began a collection, which others started to comment on. "It's a bit of a show piece ... and I've always been a bit of a show-off!" She decided just before she turned 40 last July to collect 40, one for each year of her life. Gray used her background in art and graphic design to stage the photos.
Gray has thus far sourced her suits from eBay, thrift shops, and "sexy dress-up sites." "They look anything but sexy on me," she explained. "I just find them really funny. There's a lot of humor around jumpsuits, and I get a huge kick out of them."
Elvis and David Bowie are two sources of wardrobe inspiration. In art school, Gray's final project was centered around The King's jumpsuit-wearing days, and she's from Beckenham, the same part of London that "the late, great" Bowie was from. "I'd (rather) ambitiously hoped that Mr. Bowie could join me for part of my jumpsuit marathon," she wrote. "I'd love to have asked him what he learnt in the 40 years leading up to his 40th birthday."
Another artistic inspiration is musician and fellow 40-year-old M.I.A. "Jumpsuits aside, [she] was also a big inspiration. I'm in awe of her creative direction -- her music videos and digital concepts, and the way she directs it all herself."
When she finds 40 jumpsuits, Gray plans to continue to shoot her collection in different locations, "at least until my 40th year celebration is over." She hopes that those who come across her Instagram find it humorous and get inspired, regardless of their age.
Gray's Instagram illustrates just how transformative clothing can be when trying to convey a feeling or persona. "I think that fashion is a great way to express yourself and feel good," she said. "You can really enjoy fashion if you wear what tells a story about your life and your personality, and not necessarily the latest trend or an expensive price tag ... I hope I live long enough to be an old lady and wear fabulous jumpsuits with some comfy, fun sneakers or whatever else I'm into at the time."



More HuffPost Arts coverage of awesome Instagrammers:




Dancing Every Day, With The Help Of Instagram




Meet Audrey Wollen, The Feminist Art Star Staging A Revolution On Instagram




Seattle Artist Tom DesLongchamp Turns Markers And Ink Into Vibrant Portraits



i>>?Also on HuffPost:
-- This feed and its contents are the property of The Huffington Post, and use is subject to our terms. It may be used for personal consumption, but may not be distributed on a website.
Feet aren't always a priority, but they should be. In the last few years I've suffered from major heel issues and unexplained foot pain. I've tried everything from stretching to yoga to adjustments at the chiropractor, and nothing worked. I went to two podiatrists who both told me I needed surgery. Luckily, my husband found an article about Dr. Rock Positano, Director of the Non-Surgical Foot and Ankle Service at Hospital for Special Surgery.
-- This feed and its contents are the property of The Huffington Post, and use is subject to our terms. It may be used for personal consumption, but may not be distributed on a website.
It's time to trade your plug-in night light for something much more magical.
This duo of glowing unicorns is not only the softest, fuzziest pair of slippers you'll ever own, but also an enchang way to light your path as you pad around the house at night.
Imagine: every nighttime step to the bathroom, illuminated by the cheeks of these mystical creatures on your feet.
The Unicorn Light-Up Slippers are currently available to pre-order for $34.99 -- shipping included! -- from online retailer Smoko. Pre-orders will ship out early next month.
We can hardly wait.
H/T DesignTaxi
Also on HuffPost:
-- This feed and its contents are the property of The Huffington Post, and use is subject to our terms. It may be used for personal consumption, but may not be distributed on a website.
Now this is the Rihanna hairstyle we loved and missed so very much.
The Barbadian entertainer made an appearance on "The Ellen DeGeneres Show" Feb. 3 sporting a jet-black blunt bob that looked very similar to the razor-sharp haircut she wore back in 2007 when she had everybody singing "Umbrella."
We're pretty sure Rihanna's bob hairstyle is a wig. Nonetheless, she made it "work, work, work, work, work, work" by pairing it with dark '90s lipstick, a choker necklace and military-inspired outfit. Fingers crossed that she keeps this 'do for a tad bit longer, as she's known to switch up her hair quite frequently.
Watch the clip below from the "Ellen" show to check out RiRi's new-old blunt bob and to learn more about the singer's insane food request list while on tour.
Are you ready to start taking better care of yourself? Sign up for our newsletter and join our Look Good, Feel Good challenge to supercharge your beauty and grooming routine and develop healthy habits. We'll deliver tips, challenges and advice to your inbox every day.
Also On HuffPost:
-- This feed and its contents are the property of The Huffington Post, and use is subject to our terms. It may be used for personal consumption, but may not be distributed on a website.
File this under "ruling the maternity style game."
Chrissy Teigen has rarely disappointed with an outfit choice, and it seems her keen sartorial sense has only heightened since announcing her pregnancy. Take, for example, her look for a night out in Los Angeles Thursday:
Clad in a sheer, sparkly knit dress with a chain belt, strappy sandals and a slicked-back hairdo, Teigen was all smiles as she exited a restaurant to crowds of paparazzi and what appears to be one guy who really wanted an autograph.
Opting for a see-through look yet again during her pregnancy puts her right there with pal Kim Kardashian in the sheer lover's club and we couldn't be happier about it. If you've got it, flaunt it, right?
We just really hope she gave that guy his autograph.
Also on HuffPost:
-- This feed and its contents are the property of The Huffington Post, and use is subject to our terms. It may be used for personal consumption, but may not be distributed on a website.
We love faux-fur. It gives the look of real fur, without the animal cruelty and it's easier on our wallets. While we wear this material all the time, most of us don't know much about it.
What is faux fur made of exactly?
Faux fur is made of synthetic fibers. According to an article in the Los Angeles Times, "faux fur is sheared to make fibers the right length, and heat is often applied... to coax it to lie in a certain direction (similar to the way a blow dryer works on hair)." The faux fur is then dyed and brushed, giving it a softness akin to real fur.
Is this always how fake fur is made?
While the process explained above is one of the traditional methods used to make faux fur, there have been some grave mess-ups in the past couple of years. For example, in 2013, the Humane Society of the United States issued a consumer warning saying that products being promoted as "faux fur" at Kohls.com, were actually made with real rabbit fur. The HSUS found that handbags advertised as having "faux fur trimming" were made using rabbit fur. That same year, Neiman Marcus and two other retailers, DrJays.com and Eminent, agreed to settle Federal Trade Commission charges that they had mislead consumers and marketed real fur as faux fur. Neiman Marcus came under fire again last year when the HSUS accused them of a repeat offense. And this isn't just a problem stateside. In November, the Humane Society of the United Kingdom wrote an article about real fur being sold as fake on the British high-street.
Why is real fur mislabeled?
In recent years, demand for faux fur has increased, as consumers are becoming more conscious about where their clothes come from and how they are made. This has left manufacturers scrambling to meet high demands and thus resulting in the mislabeling of products. The penalties for violating the Federal Trade Commission Act are serious, "selling animal fur as fake fur is a violation... and carries a civil penalty of up to $16,000 per violation."
The more you know.
Also on HuffPost:
-- This feed and its contents are the property of The Huffington Post, and use is subject to our terms. It may be used for personal consumption, but may not be distributed on a website.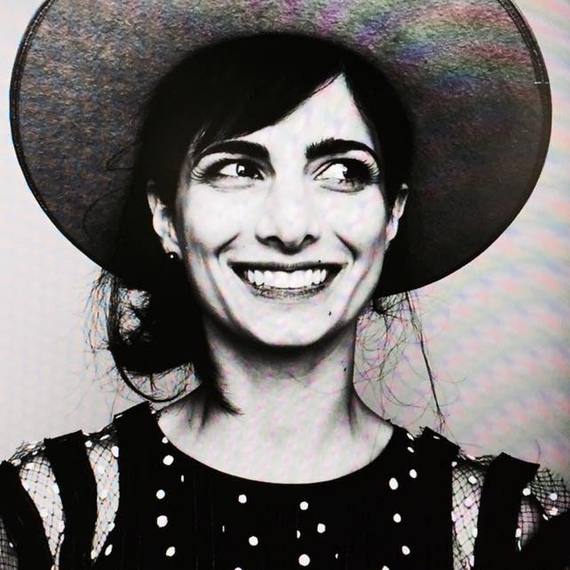 It was 2009 and the creative New Yorker, Satya Twena was working a desk job at a large interior design firm in the city while feeding her artistic soul taking sewing, knitting, and crochet classes. There's one class that fed her soul like none of the others, hat making. Before long, Satya was making hats for herself at home using pots and pans to create patterns. Hat making became an obsession. She would sell them here or there online, make them for her friends, and when her mom began losing her hair due to cancer treatment, Satya did what she did best, made her a hat. Ten months after making her first hat, Satya was in California talking to her mom about her dreams. Satya confessed that she often daydreamed of one day just making hats for a living. Her mother asked her a simple question.
"Why wait?"
She encouraged Satya to stop doing anything that didn't make her 100% happy, and to pursue her dream. Satya returned to New York, quit her job, hired two employees, and turned her apartment into a hat manufacturing facility, all while her husband was travelling on business. In the last 5 years,
Satya Twena
launched a business, saved a 40 year-old-hat-factory, and created a brand that has been featured in Oprah Magazine, Glamour, The Today Show, Forbes, Vogue, Glamour, Elle, and The New York Times, to name a few.
She's a 32 year old entrepreneur, artist, and hat maker who says that if you had asked her six years ago where she would be today, she would have answered that she'd still be working her desk job at the interior design firm. But, somewhere along the line, with a bit of inspiration and encouragement, Satya said no to the desk job and yes to her dreams, turning her passion into art and into an empire. Hats off to Satya Twena. Here's what she has to say about indulging in your big dreams.
Net Worth = Network:
Satya became a full time hat maker in 2010. She continued to run her hat company out of her New York apartment with her two employees. For larger orders and collections, she worked closely with a large hat factory in New York City. In 2014 the factory abruptly closed after forty years manufacturing hats. At first, Satya freaked out. There is a shortage of quality hat factories in the country and so this closing would make it all but impossible for her to fill large orders quickly. That's when Satya's husband suggested that she reach out to the factory owner and offer to buy the factory. That's exactly what Satya did. She soon had the factory under contract as she spent 30 days dialing for dollars to find the money to purchase it. Satya says that she didn't know where the money would come from, but she knew instinctually, the money would come. Six hours before the closing was to take place, the money was wired into her account, from a group of friends and family. Satya closed on the factory and soon realized that she didn't have enough money to run it. In a race to find the money to purchase the factory, she had overlooked the expensive operating costs. She had exhausted all resources in finding the money to buy the factory and so for operating costs she turned to Kickstarter. Once again, her network of advocates supported her in droves. She raised $191,000 in her Save the Factory campaign, all while selling tons of hats so that her employees would have hats to make upon re-opening. Satya says that building a network is easy; be kind, meet new people, and help people in your network when you can. She says that anything can be accomplished with the right army of advocates supporting you.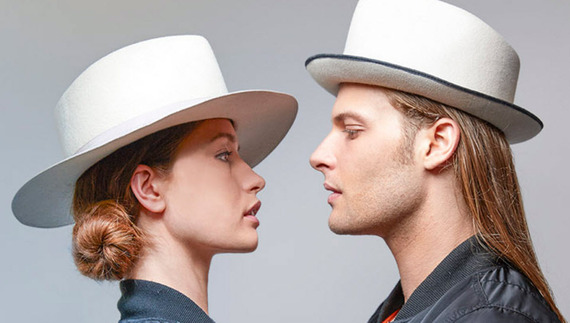 Identity:
Satya is now recognized around the world as a premier hat maker. I asked her how she's been able to grow into a trusted brand in five short years. She says it's a mixture of hard work, perseverance, and the lucky fact that her product creates a personal identity. She explained that there's no piece of fashion that can assist an individual in expressing their identity like a hat. She says that if you are at a networking event, there's rarely anyone wearing a hat, and so it's easy to say,
"Did you meet Bob? He's the one over there in the blue hat!"
Hats get you noticed. Hats make a statement. Hats become a part of one's personal brand. Satya says that when your business is to help others express their human brand to the outside world, it's easy to become noticed in a good way. Satya's hats have now graced the runways and shows in New York, London, Milan, and Paris. Fashion forward celebrities have used her hats to express their personal brands, and so Satya continues to build her brand and identity by creating high quality hats that make a statement.
A Hat For Every Head:
Satya says that one mentor who has had a profound effect on her business is author, speaker, artist, and thought leader,
Seth Godin
. She says that early on in her business she believed that everyone was a potential customer because everyone has a head that could wear a hat. It was Seth who helped her see that her time and energy were better spent on targeting not everyone, but rather people who already consider themselves hat lovers. By concentrating on people that already love and appreciate a great hat, she could better tailor her branding, marketing, and hats, to serve a niche segment of the population who already value hats, rather than spending time, energy, and resources converting the non-believers. Satya says that she concentrates on making quality hats for hat loyalists, and those loyalists in turn, often turn the non-believers into newly indoctrinated hat enthusiasts who then become part of the audience to whom she speaks.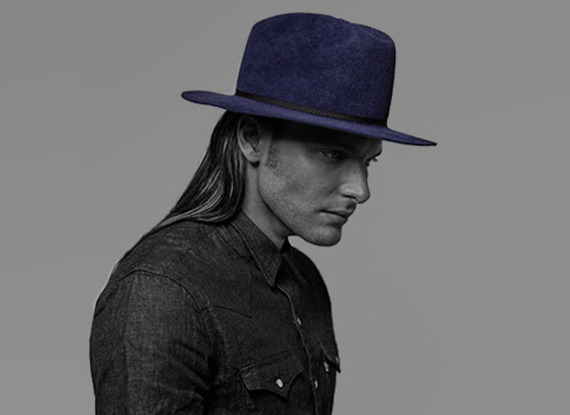 Express You:
Satya loves interesting hats, unique clothing, and face paint. For most of her life she says that she suppressed her authentic self, always scared that people would see her as different. Today she says that what she appreciates most about herself is that she is unique, different, and unusual. She's no longer afraid of standing out. If there's a girl in the room with tribal-like face paint around her eyes, hippy couture, and a fantastic hat, there's a good chance it's Satya. She might look different than most. She may stand out. But, the one thing that is for sure, she's the one in the room who is always expressing the most authentic version of herself. Satya says that in building a business, making art, or creating a great life, be brave enough to be the real you.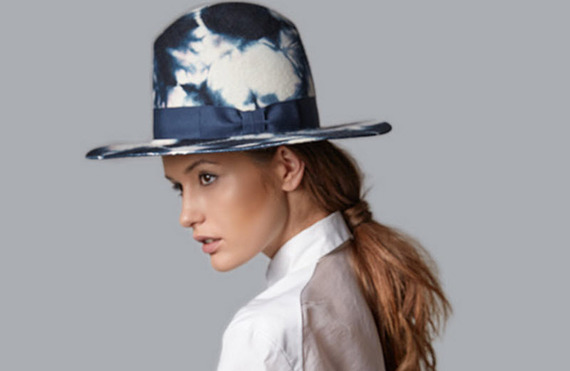 Be a Sponge:
Satya intensely listens to and studies everyone around her. She says that her mom is her greatest inspiration. She is an artist, survivor, and free-thinker who has encouraged Satya to pursue her dreams. Satya says she has also learned business lessons from her dad, an entrepreneur, and technology guru who always has told her,
"Do what you love, the money will follow."
She has learned from her sister to take the extra time needed to make well thought out decisions. She has learned from her brother to spend as much time on earth doing what she loves. Satya introduced me to several of her friends, other artists, and business owners, who have taught her how to live as an artist, be patient, to love, and to make a mark. She says that she has learned an exorbitant amount about life, loyalty, business, and love, from her husband of nine years who left his own highly successful career to give Satya a competitive advantage at her hat factory. She says he's her best friend, the love of her life, and the reason she has the opportunity to change the world with her art. Satya says that no matter who you are, there is a dose of entrepreneurial, artistic, business, and life advice sitting right next you, all you need to do is absorb it.
When you get to know Satya, and when you see all she has accomplished in such a short time, it makes you realize that perhaps we are all just one brave brush stroke away from creating our best art. Hats off to Satya Twena, for bravely pursuing passion over a paycheck, making art that matters, and living authentically.
Flirting with the idea of owning your own Satya Twena hat? Visit
www.SatyaTwena.com
.
-- This feed and its contents are the property of The Huffington Post, and use is subject to our terms. It may be used for personal consumption, but may not be distributed on a website.
We are smack in the middle of awards season, which means that celebrities are turning it out on the red carpet. And this week was particularily inspiring.
Kristen Wiig showed up to the "Zoolander No. 2" premiere in a multi-colored dressed that is by far our favorite look of 2016, Lupita Nyong'o made a case for bright purple in the dead of winter, and the Duchess Of Cornwall taught us how to power-clash.
Check out the best-dressed stars of the week and let us know if you agree with our picks.
Also on HuffPost:
-- This feed and its contents are the property of The Huffington Post, and use is subject to our terms. It may be used for personal consumption, but may not be distributed on a website.
Load More