A man who was after aBachelorettea star Andi Dorfmanas heart died after a paragliding accident.
The self-portrait of a Florida boy who died in a tragic swimming accident has gone viral -- with the drawing, titles "Mr. Awesome," shown in the hands of celebrities, politicians and pro-athletes all over social media.
Texas Gov. Rick Perry joined his stateas top attorney on Wednesday in blasting the federal Bureau of Land Management over concerns that it may be looking at laying claim to thousands of acres of property in northern Texas.
"Duck Dynasty" star Lisa Robertson recently wrote about the sexual abuse inflicted on her by a family member from ages 7 to 14.
Imitation or flattery?
PlayboyPlaymateColleen Shannonis partying it up now that she's out of prison.
A crosscheck of voter rolls in Virginia and Maryland turned up 44,000 people registered in both states, a vote-integrity group reported Wednesday.
Tori Spelling's new Lifetime reality show True Tori is delving into her husband Dean McDermott's cheating scandal, and Tori's not holding back any details. "I miss having my best friend," said a tearful Tori on her way to see Dean in rehab.
Here are the worst scandals that probably made the execs at Nick wish theyad stuck with all-cartoon casts.
The Wednesday hearing on three separate impeachment resolutions includes one citing Nixon's decision to allow same-sex couples who married legally in other states to file joint tax returns in Missouri.
A maritime professor who spoke with the third mate who was steering the South Korean ferry before it sank said Wednesday that he suspects there was a problem with the steering gear.
Georgia Gov. Nathan Deal on Wednesday signed legislation significantly expanding gun rights in the state.
A liquefied natural gas facility in southern Maryland is generating intense criticism from environmental groups, in a fight that echoes the protracted battle over the proposed Keystone XL pipeline.
U.S. Army paratroopers are arriving in Poland on Wednesday as part of a wave of U.S. troops heading to shore up America's Eastern European allies in the face of Russian meddling in Ukraine.
Two recent deaths and increased emergency room visits in Colorado have highlighted concerns about the safety of legal marijuana edibles.
New York Yankees pitcher Michael Pineda was ejected from a game against the Boston Red Sox in the second inning Wednesday night after umpires found a foreign substance on his neck.
Jeb Bush said Wednesday he's "thinking about running for president," in his most direct statement yet about a possible 2016 run.
The Silver Tassie is a disturbing play, but this is its best production yet, says Charles Spencer
We didn't need a second series of Ricky Gervais's comedy drama Derek, says Terry Ramsey
BBC blames actors for poor enunciation as drama Jamaica Inn attracts 800 complaints and loses quarter of audience
This version of Daphne du Maurier's classic story is unlikely to have had people gripped, says Terry Ramsey
As festival season approaches, we round up the very best of the UK festivals
As the world celebrates Shakespeare's 450th birthday, Dominic Cavendish explains why seeing the plays in performance is not enough
Actors break world record by performing the works of Shakespeare at 37,000ft, while on board a flight to Verona
Is Physical Graffiti really better than Led Zeppelin III? Neil McCormick sticks his neck on the line
The film director has produced some of the most overblown and forgettable paintings ever, says Alastair Sooke
Officials decide to stop glamorous events - such as post-premiere party for The Hunger Games - being held at historic Royal Courts of Justice in London
Khovanskygate is a version of Mussorgsky's opera with irresistible imaginative panache, says Rupert Christiansen
This cannily paced programme of music is a perfect summer evening soundtrack, says Rupert Christiansen
John Eliot Gardiner poignantly explores Bach's penetrating emotions, says Geoffrey Norris
On Shakespeare's 450th birthday, Dominic Cavendish reveals 10 little-known facts about two of the Bard's most famous plays
Olga Bell's solo debut is a rewarding odyssey, says Helen Brown
Book giveaways, readings and family events are taking place across the country
Women are more attracted to men who can produce complex music, a study shows. But if you can't play an instrument, fear not - Louisa Peacock lists the songs that will excite a modern woman
As official figures suggest that dancing makes us as happy as receiving a APS1,600 pay rise, we asked leading personalities what little things lift their spirits
This musicalised adaptation of Oscar Wilde novel is a theatrical stinker, says Dominic Cavendish
Sweeping changes in Georgia will permit weapons in public buildings
Family of Mark Shand, 62, left devastated after renowned conservationist dies from injuries suffered in a fall on a New York street
"Tiny house movement" is gaining popularity in the US to provide shelter for the homeless
Buffalo Bills cheerleaders sue New York state football team over unpaid work and "jiggle test"
Middle East peace talks thrown into chaos as two rival Palestinian factions agree to form a new unity government
The latest unrest to threaten this year's World Cup began after slum residents blamed police for the death of a dancer
Expedition leaders are hoping the Nepal government can reach a deal with sherpas threatening to boycott the lucrative Everest climbing season after 16 guides were killed in an avalanche
College in eastern France refuses North Korean requests to train three experts in French cheese-making to cater to despot Kim Jong-un's penchant for fromage
French president's former partner Valerie Trierweiler would return to the ElysA(c)e if he showed contrition and gave guarantees of faithfulness, it is claimed
'Miracle' cure of woman suffering from a severe brain aneurysm 'paved way for John Paul II to be made a saint'
American dream fades as data shows middle classes falling behind Canadian counterparts
Marital cheat faces the ultimate humiliation of being offered for sale for $9.99 on the internet
As Nepal reels from the death of 16 Sherpas there are fresh warnings that a changing climate is making mountainside unstable
Though some court rulings may imply otherwise, wearing tight clothing does not give rapists permission to assault.
Wednesday marks
"Denim Day,"
the awareness event when advocates and survivors speak up for the rights of people who have been sexually abused. The event dates back to 1999 when the
Italian Supreme Court overturned a rape conviction because the victim wore fitted jeans
at the time of the assault. The justices ruled that the victim must have helped her attacker remove her pants, thereby giving her consent.
The following day, female politicians came to work wearing jeans to stand in solidarity with the victim. Peace Over Violence then turned that powerful statement into Denim Day -- the day advocates wear jeans and attend rallies to protest against misguided attitudes about sexual violence.
Supporters are getting involved in a number of ways.
University of California, Berkeley students
, for example, are distributing information about the campaign and giving people a chance to express messages about sexual assault on T-shirts and jeans.
The Guess Foundation committed to making a $100,000 donation
to Peace Over Violence, and has more than 400 stores participating in Denim Day efforts. Assault survivors are also using the awareness day as an opportunity to speak out. Los Angeles Mayor Eric Garcetti and Los Angeles Police Chief Charlie Beck
unified with the cause by wearing blue jeans
to a Denim Day event in L.A., CBS Los Angeles reported.
Over the years, some progress has been made with regard to how survivors of sexual assault are treated.
In 2008, the Italian court overturned its original ruling and stated that
"jeans cannot be compared to any type of chastity belt,"
the Telegraph reported at the time.
Still, advocates say that rape survivors have to bear far too much stigma.
According to the Rape Abuse & Incest National Network,
60 percent of sexual assault cases in the U.S. are not reported
to the police.
Denim Day supporters hope that their efforts will empower abuse victims, break taboos and help debunk misconceptions.
"
The way our society thinks about rape and receives survivors is not only tragic
, it's dangerous," Mariska Hargitay, actress and advocate, wrote on Denim Day two years ago. "Fearing that they won't be believed, survivors are less likely to report their rapes, which means rapists stay out of jail, which means they are free to rape again."
Feeling inspired? Find out how you can get involved with Denim Day.

Need help? In the U.S., visit the National Sexual Assault Online Hotline operated by RAINN. For more resources, visit the National Sexual Violence Resource Center's website.
Step aside, Mrs. Doubtfire.
These three young women, known as the "Jammin' Grannies," rock the grandma get-up better than anyone we've ever seen before.
And boy do they know how to bust a move!
To get themselves pumped up before they run marathons, they dress up as "grannies" -- with wigs and all --
and rock out in honor of mental health,
according to their Facebook page.
On March 29 at
Ukrop's Monument Ave 10k marathon
in Richmond, Va., these grannies danced to V.I.C's "Wobble," and had everyone wobbling with them.
Take note of the way the grannie in the pink pants moves her hips. It's almost as good as the crip walk that the grannie in the blue pants busts out around the 20 second mark.
h/t
RightThisMinute
Mary-Kate and Ashley's label The Row isn't exactly known for being budget friendly (remember that
famous $35,000 backpack?
) But now, the fashion moguls have outdone themselves by
creating a bag made out of nylon
that retails for $1,550. Yes, you read that right. For the price of approximately 150 manicures you can have one of your very own The Row nylon bags. Here it is: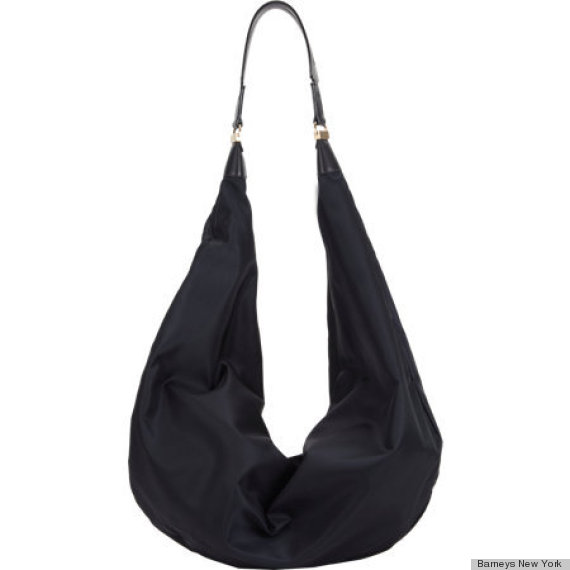 But wait, maybe we're being too hard on the bag. After all, nylon
is
an extremely useful material that has a broad range of uses, for things like:
Tents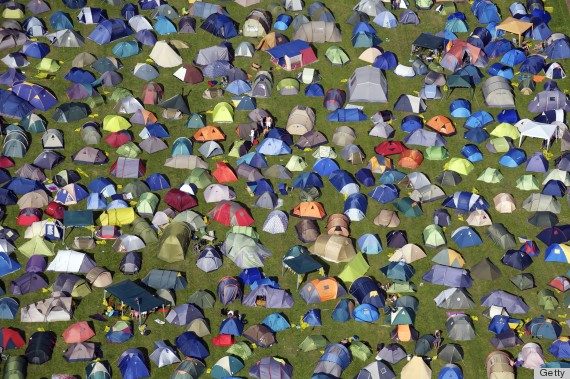 Sleeping bags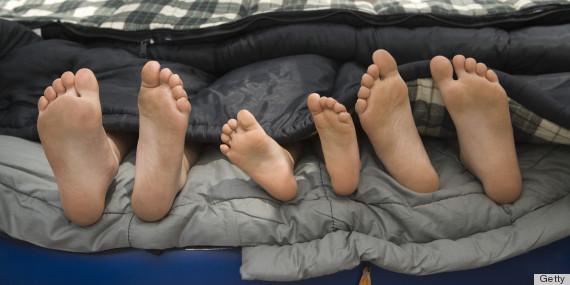 Tablecloths from children's birthday parties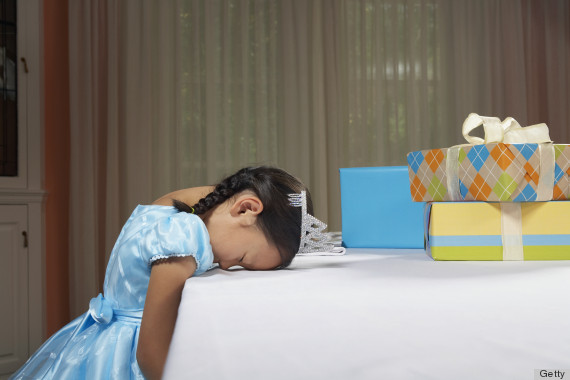 Blinds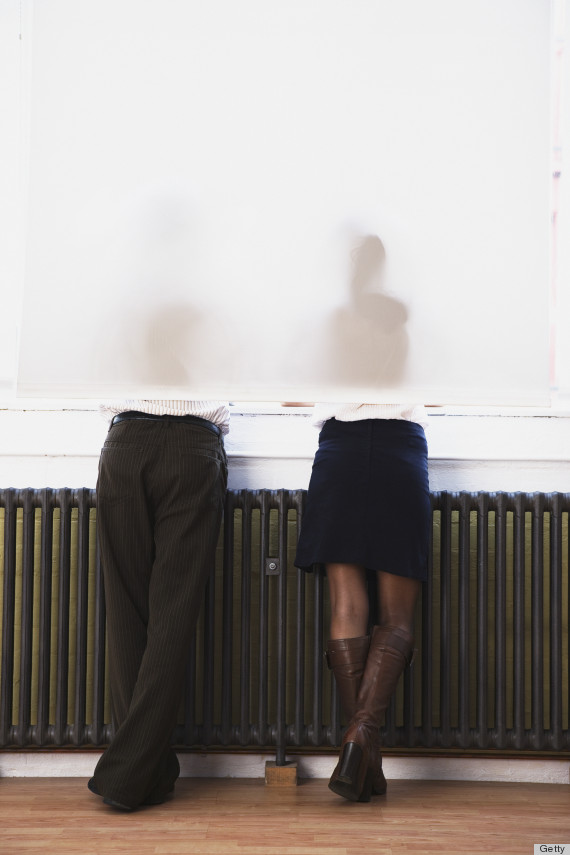 Track pants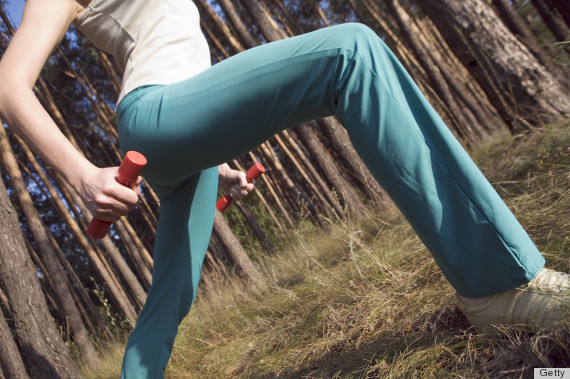 Umbrellas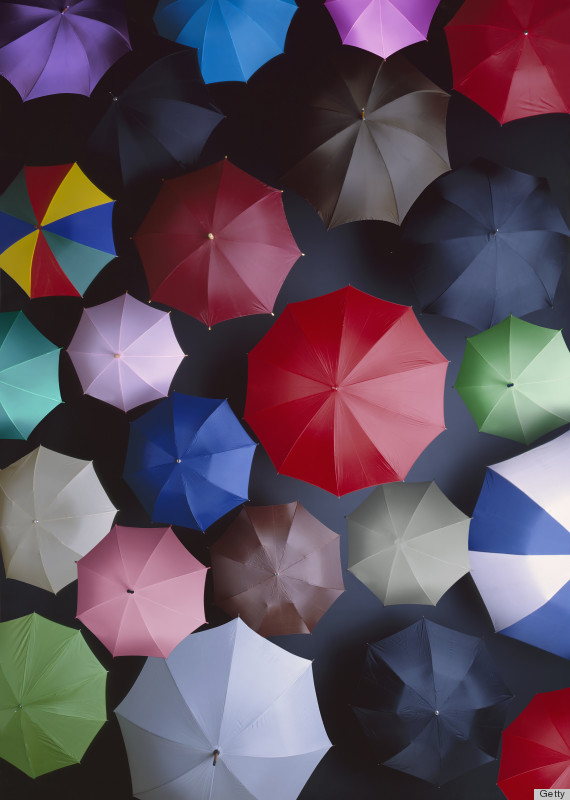 Kites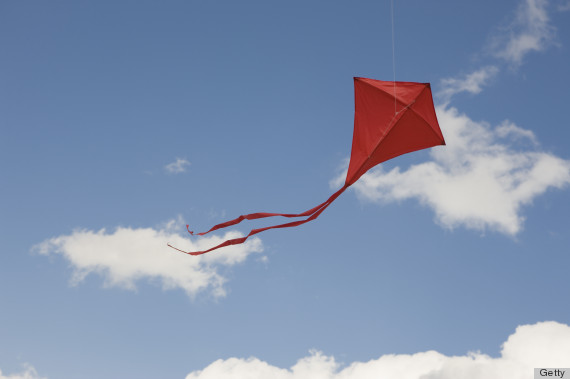 So it's kind of worth the cost, right? Of course, if you can't afford to drop a month's rent on a nylon bag, may we suggest going to your local Whole Foods and
picking up a reusable shopping bag,
made of the same material, which at just $9, costs 0.58 percent of The Row's version.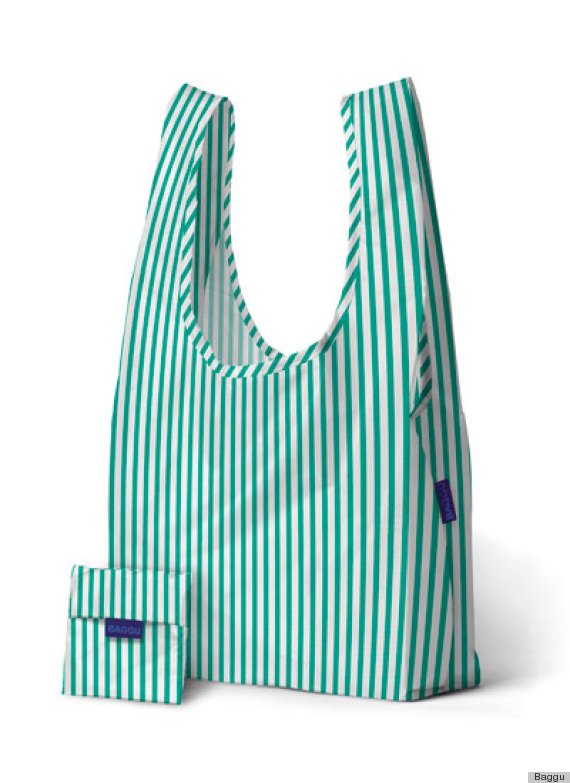 School officials were reportedly not down with this student's prom outfit.
According to North Carolina's WBTV, Cherryville High School student
Shafer Rupard said she was asked to leave her senior prom
because she wore pants to the event.
"The teacher tapped me on the shoulder and said she had a problem with what I was wearing," Rupard told the outlet. "I thought it was because of the hat or the leather jacket, and I was like, 'Well I'll take those off,' and she was like, 'No, it's the pants.'"
Rupardas mother, Shawn McQuaige, told the outlet that neither the prom invitation nor the handbook included a dress code for the event. Indeed, while the 2013-2014 parent and student handbook specifies that
students should wear aappropriatea clothing for school
, it does not mention anything about prom attire specifically.
The Huffington Post reached out to the school district but did not receive an immediate response.
In 2013, Cherryville High School was awarded a bronze medal for outstanding student achievement from US News and World Report,
the schoolas website notes
.
Weeks after
faking everyone out
, Kaley Cuoco has cut her hair short for real this time.
Cuoco debuted a new shorter 'do
, which has been chopped into a neck-grazing bob, on Instagram Wednesday, April 23. "We did it @clsymonds ! Now let's get some color shall we ? @andylecomptesalon," she wrote, giving shout-outs to hairstylists Christine Symonds and Andy Lecompte.
Last month, the "Big Bang Theory" actress made headlines after everyone thought she cut her long blond tresses because of a particularly misleading Instagram photo. Alas, it was all a joke because the 28-year-old just got a little bit cut off on that particular occasion.
"She did get a trim, but that was it," a source told Us Weekly of the attention she got. "
Kaley saw the media reports
, and they were cracking up about it."
If you do a
Google search for "Jon Hamm penis,"
you'll know what we're talking about, though the "Mad Men" star would really prefer it if everyone would refrain from Googling that phrase.
"Would you want people walking up to you and pointing at your dick? I can't believe I'm still talking about this. But I've worn underwear every day of my life and the fact that I'm painted as this exhibitionist is a little annoying,"
the 43-year-old told Men's Fitness in the magazine's May issue
. "It's become a meme, I guess. Being someone who people want to photograph, you have to open yourself up to the positive and negative. It is what it is. If I get mad at it I'll look like a douchebag. But it's silly."
No, seriously,
he'd really like you to stop concerning yourself with his penis
.
"They're called 'privates' for a reason. I'm wearing pants, for f--k's sake. Lay off,"
Hamm told Rolling Stone last year
, adding that intense scrutiny is one of the drawbacks to fame.
"I mean, it's not like I'm a f--king lead miner. There are harder jobs in the world. But when people feel the freedom to create Tumblr accounts about my c--k, I feel like that wasn't part of the deal," he said.
So, now that we're all going to stop talking about Jon Hamm's penis,
he'd like you to focus on more pressing issues
, such as why is Justin Bieber such a "shithead"?
"Look at Bieber or whoever. Youare like, 'What the f--k, man? What are you doing? Why?' There's no one telling those people no, and itas a shame," Hamm told Men's Fitness. "Is there a mom or a dad or a really good friend who can say, 'Hey, shithead!' You see people in the world and youare like, 'Do you know how a washing machine works? Do you know how to wash a dish?' Life skills are something weare missing."
Bieber is an easy target these days, but it's
not the first time Hamm has put a celebrity on blast
.
"Whether it's Paris Hilton or Kim Kardashian or whoever, stupidity is certainly celebrated. Being a f--king idiot is a valuable commodity in this culture because you're rewarded significantly," he told Elle U.K. in 2012. "Incuriousness has become cool a| Itas celebrated. It doesnat make sense to me."
Are you bored of your boxers? Basic white briefs getting you down? American brand Bodyaware specializes in creating bold and sexy designs for all your needs, and they're sure to keep you on your toes. With the latest in silk, lace, rubber and more, Bodyaware keeps their styles fresh and innovative. Over at
The Underwear Expert
, we've put together a day by day roundup of looks for the week. Check it out.
1. Monday, Silk Brief
Incredibly luxurious, this silk brief is made from 95 percent pure silk and five percent spandex for just the right amount of flexibility. Go for it in red to really amp up the sex appeal.
2. Wednesday, Basically Amazing Ribbed Jock
Ultra soft, this barely-there design will become your go-to jock for every day wear. The Enhancing U-Shaped Inner Pouch gives you a boost where it matters, and the style is extremely flattering.
3. Thursday, The Strapping Silk Brief
Silky satin framed with see-through lace. This luxury brief comes with a contoured pouch and is ideal for those extra special nights.
4. Friday, Onion Skin J-String
Probably the boldest style we have seen to date. The Bodyaware J-String is exceptionally unique and virtually weightless, shaped to fit you perfectly. It features a contoured pouch, and an anatomically correct frame that rests in between your cheeks; and, it can be worn as swimwear or underwear.
For the rest of the week, head on over to
The Underwear Expert
.
Haley Dunphy ... is that you?
That was our first thought when we saw
Sarah Hyland's
photo spread in
Flaunt Magazine
, Issue 134: The Sharks Issue. The 23-year-old "Modern Family" star posed with a bevy of china and plush dolls wearing white Siwy overalls and a sheer organza top in one photo and thigh-high socks and bubblegum pink Giuseppe Zanotti heels in another. Though the petite star does resemble a doll herself, with her large eyes and dewy complexion, we can't help but be a little creeped out by these images.
That said, her hair and makeup look flawless. In fact, this editorial may just inspire us to try
purple eyeshadow
ourselves.
See Sarah Hyland transform into a life-size doll in the photos below and head over to Flaunt.com to read her interview.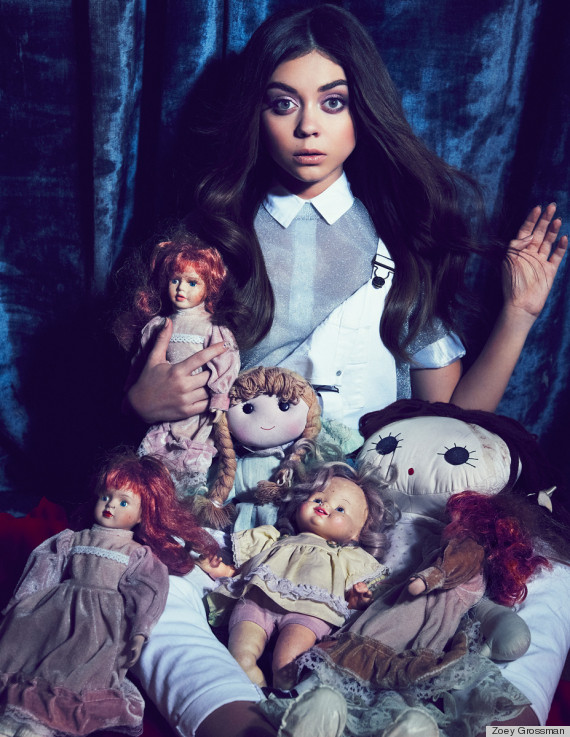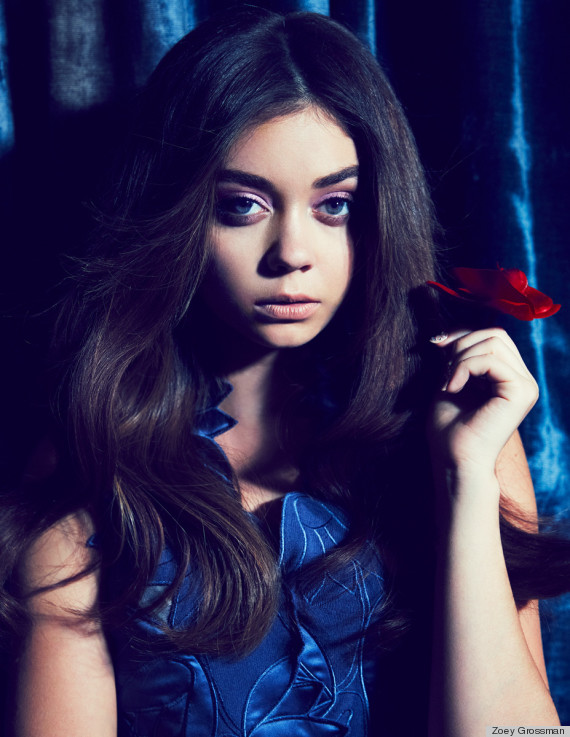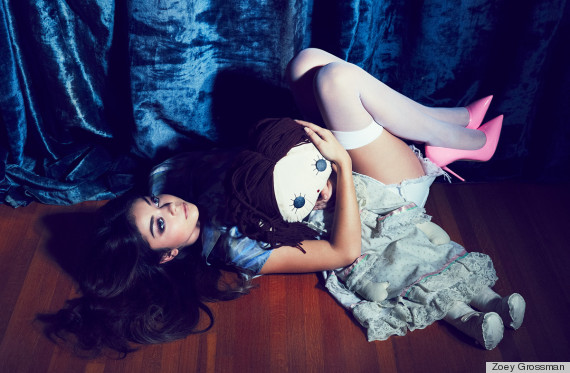 Although our dreams of waking up as
BeyoncA(c)
may be slim to none (sigh) -- these days we can get relatively close to matching her fabulosity thanks to a few savvy folks.
Exhibit A:
She often wears
clothes that aren't out of our budget
.
Exhibit B:
We can study her fly feminist ways via a
course at Rutgers University
.
Exhibit C:
Learning all her amazing her dance moves is just a
sweaty and sassy workout class away
.
And why not complete the
transformation
-- sans the ginormous bank account, hip-hop mogul husband, adorable
Blue Ivy
and super stardom -- with a few of her beauty looks?
Well, we have Teen Vogue's beauty and health director
Elaine Welteroth
and celebrity makeup artist
Sir John
to thank for that. John, who is the mastermind behind eight of the videos in
BeyoncA(c)as visual album
, teamed up with Elaine to recreate three eye-catching makeup applications for our viewing and imitating pleasure. Love it!
Check 'em out...
How to Get BeyoncA(c)'s Glowing Skin from the "Ghost" Video
The Trick to Copying BeyoncA(c)'s Smoky Blue Eyes from Her "Mine" Video
BeyoncA(c)'s Bold Lip Looks from "No Angel" and "Jealous"
Just flawless...
My father was a barber, but every day he dressed like he was going to a wedding, complete with the little white pocket kerchief, perfectly squared and in its place all the time. At night when he returned from his Eighth Avenue barber shop in Manhattan, he looked no worse for the wear of traveling the subways and buses to get to our Astoria apartment. And the next day he looked better than the day before.
Being my father's son, it was no different for me or my brother. Going to a strict Greek parochial school meant no school day would be spent in anything but a regulation school uniform complete with tie and yes, shined shoes. My mom, a seamstress, made mostly everything we wore, so every stitch was always in place. And God help you if you weren't properly dressed for church on Sunday (the subject, by the way, of a recent story on CNN).
To this day, I carry the dress-well gene. Though I admit to wearing jeans and regular knock-around shirts to work at times (hey, it's my own business), I always feel funny doing it. On calls to potential clients, I always dress well, even though dressing well these days means dress pants, a nice shirt, blazer, but no tie. If I wore a suit complete with tie to these visits I would stand out like a piece of sod in a field of crabgrass. A small white handkerchief added to my vest pocket would complete the overdressed look.
I always welcome the opportunity to dress up, an obvious leftover from my upbringing, but I also welcome the occasional question about why I do it. It's a very simple answer -- it makes me feel good.
There is no philosophical way to explain how good you feel when you're all dressed up and somewhere -- or even nowhere -- to go. It even works when you're working out of the house. Try it. Change from your sweats or pajamas-that-look-like clothes into something nicer, and your productivity lifts. Conference calls in your pajamas always go better when you change it up.
I try to spread the word of dressing up as a way to fight the blues, but many times it's just me having a conversation with myself. This holds especially true for the future leaders of our country.
It's nice to see young people dressed nicely instead of seeing them in ripped jeans (and they pay a premium to buy them that way), jeans pulled down to expose their underwear (why wear jeans at all?) jeans that button up just below the hips (and always creep down to expose the start of Mt. Rear) T-shirts with meaningless phrases (and they pay a premium to buy them that way) and, well, shoes that would make Milton Florsheim cry.
I'd like to make one more outrageous statement, though I have no scientific backing for it. Dressing properly might make you feel healthier. And who knows, it may even work on stress.
There is, however, one exception to this practice of dressing well -- leisurely Sunday mornings, especially when the weather is nasty. What's better than reading the paper, having a cup of coffee along with an everything bagel (just a schmear please) and looking like one of those police mug shots of celebrities. I think even my father would approve, though he'd probably be shining his Florsheims.
With all the the talk about Lululemon's "dumpy" new CEO Laurent Potdevin at the helm of the fitness conscious company, it only seems fitting to explore the brand's highly contoured and often copycatted clothing -- and what's made it the most sought after non-athletic, athletic apparel.
Since launching in 1998, Lululemon has revolutionized workout wear, making gym clothes much more than garb destined solely for the inside of a sweaty, stinky fitness forum. Whereas people used to carry around a bag of spandex garb that would only see the fluorescent lights of their athletic arena, they now wear their "Wunder Under" pants proudly in public.
In addition to the brand's intended use (yoga, cycling, running and anything else sweat-inducing), I've seen the glorified garments in coffee shops, movie theaters, high-end restaurants, the workplace and just about every possible errand-running situation I've come in contact with (dry cleaners, nail salons, supermarkets, etc.) Paired with matching tops, designer blazers, puffy down coats and equally expensive cotton t-shirts, it seems that their pants have become particularly popular -- on par with a pair of blue jeans. On the west coast, namely Los Angeles, these pants are a wardrobe staple. They're easy to throw on and move around in, and they somehow seem to suck the body in in just the right places, something the body conscious population can't quite get enough of.
The Canadian company has become a symbol of status, with a hefty price tag attached to their form-fitting Luon (read: fancy for spandex) fabric. They've basically created a niche for luxe athletic apparel, a category that used to be reserved for the pricier styles designed under large labels like Adidas, Nike and Reebok. In fact, people have dubbed Lululemon a noun, synonymous with the word leggings. Lululemons or Lulus are widely interpreted as legging-style workout pants among the fitness savvy fashion set.
Are Lululemon leggings the Juicy Couture velour sweatsuits of the current decade? Will we look back and think, "What were we thinking?" or are they around to stay and suck in our cellulite?
Apologies go out to all of you soon-to-be wedding guests -- we have some bad news for you and your wallets.
According to a new
American Express survey of 1,500 Americans
, guests will likely spend an average of
$592 per wedding
in 2014. That's a 10 percent jump from last year's average spending ($539) and a 75 percent jump over
the last two years
, according to
Market Watch
.
This amount includes expenses such as pre-wedding festivities, transportation, attire, hotel and grooming, but does not include the price of the wedding gift. The average amount spent on gifts this year will be about
$109 per wedding
, but nearly twice that if the bride or groom is a close family member.
And, of course, it's not just guests that are dropping serious cash on the Big Day. According to
The Knot's 2013 Real Weddings report
, marrying couples are now shelling out
$30,000 on average for their weddings
and spending an average of
$220 per guest.
For more on the American Express survey results, head over to
Market Watch
.
Keep in touch! Check out HuffPost Weddings on Facebook, Twitter and Pinterest. Sign up for our newsletter here.
If you're anything like me and have an undying need for every new beauty product that hits the shelves and has a limited amount of cash to spend, I know how it feels to get a new product that disappoints. Don't worry though -- I'm here to break down the best products have pleased my wallet and me the most!
1. Olay Active Hydrating Beauty Fluid Lotion: $6.94
Every winter, the cold air dries out my face and this is the only good facial lotion that I've come across. Not only is it low in price, it lasts forever too. In fact, I've been using the same bottle for almost a year now. A little goes a long way and the lotion doesn't leave your face feeling greasy or sticky. It doesn't clog your pores and it leaves your face feeling soft and fresh! Not bad for almost 7 bucks!
2. L'Oreal Paris Infallible Eye Shadow: $6.97
This has been my go-to eye shadow for about three years now. At first, due to it's small size and price, I was a little hesitant because I thought it'd only last a month. Boy, was I wrong! The pigments are so dense and bright that a little goes a long way. It doesn't crease when you use primer and there's just a little bit of shimmer in most colors, which gives it a pretty, girly look. They are also extremely easy to blend, which is awesome because you can make some smokey eye combinations out of their colors. I have seven colors that are a part of their collection and every one has a special use that could fit any occasion!
3. L'Oreal Paris Telescopic Liquid Eyeliner (Waterproof): $8.44
I've been using this eyeliner since I was in middle school and I'm now a senior in high school. I love literally everything about it! Before I started wearing liquid eyeliner, I was always worried that I wouldn't be able to get the straight line, but with some practice and the right brush like this one has, I have perfect eyeliner every time. Not only is the color extremely bold, but it stays bold all day without fading. One tube typically lasts about three months, which is awesome for liquid eyeliner. Definitely worth the $8!
4. Coconut Oil: Price varies, usually around $7-$10
I recently discovered this natural beauty product. It's great if you have dry skin or dry hair. Because it is an oil, it's probably best to put this on before bed and sleep with it on, that way you're not walking around school looking like you just got done having a wrestling at KFC. When you put it on your skin, it feels great and smells amazing too! I typically put some on the dry areas of my face, my elbows and feet. For my hair I put it on my ends and it helps give it some healthy volume.
5. Eos Lip Balm: $2.96
I've never been a fan of the traditional cherry ChapStick. It usually made my lips feel waxy and it tasted awful. However, this lip balm is officially my favorite It penetrates quick, while still protecting your lips. Not to mention, the flavors are amazing! My favorite flavor is definitely Sweet Mint -- it gives you this tingly sensation on your lips with every breath you take! And you can't lie, the packaging itself is pretty neat.
6. Revlon Grow Luscious by Fabulash Mascara: $4.97
First of all, did you see that price?! You just can't go wrong! The quality of this product is on point. As a girl with relatively thin eyelashes, I was kind of taken back by how big and thick the brush was being that I've always heard that the thinner the eyelashes the thinner brush to use. However, this brush did so much for my lashes! It made them long, thick and of course, a perfect shade of black!
7. FX Sea Salt Spray Wave & Texturizing Mist: $4.47
For a girl with naturally curly hair, this spray is my hair's best friend! It gives my hair a cute beachy look without feeling like I even put spray in my hair. The price is obviously awesome and a little goes a long way. I've had the same first bottle for just over a year, and let me tell you, I use this almost every day!
8. Sally Hansen Complete Salon Manicure Nail Color: $6.48
When it comes to nail polish a drug store, many of us girls know that it's usually a miss and chips in a couple days. But this is the royalty of drug store nail polish! It has a rich color and it lasts a long time. The way the brush is makes it go on easily with just a couple strokes -- and without needing another coat! Saves time and clearly is easy on your pocket.
You can get all of these products at your local Walmart, CVS or drug store. Hopefully they don't disappoint you, or your wallet either!
Do you ever get jealous of
kids who have better style than you do?
Yeah, us too.
But there's good news!
Shopbop
announced Wednesday that their new Born Free collection, a collaboration with Vogue and 22 leading designers (including Alexander McQueen, Celine and our favorite jokester, Victoria Beckham), is now available for
purchase on their website
.
The adorable, matching outfits for women and children are relatively reasonably priced (almost everything is under $250) and all proceeds from purchases go to Born Free, an initiative to end mother-to-child transmission of HIV.
Even as self-proclaimed lovers of all baby-related things, we're not always the biggest fan of mommy & me clothing. But for clothes this chic, we're willing to make an exception. After all, we don't even have kids yet and that Diane von Furstenburg diaper bag is
seriously
calling our names.
Take a look at some of our favorite looks from the collection below, featuring models with their children, and excuse us while we obsess over these photos for the rest of the day.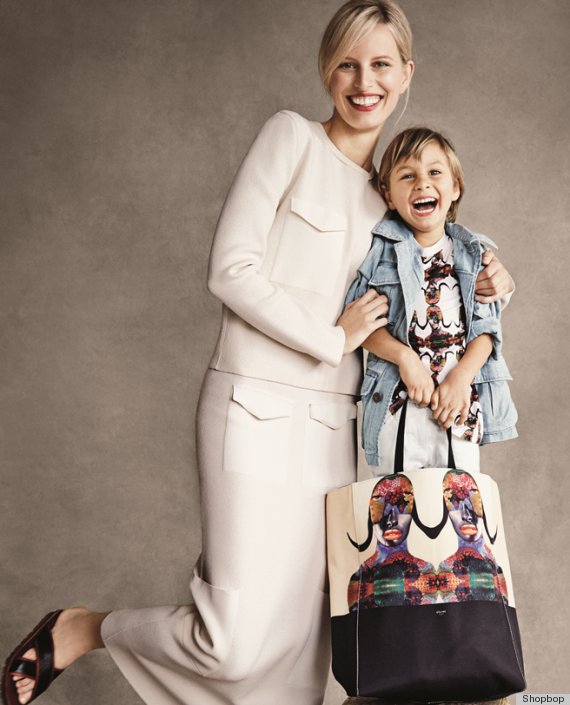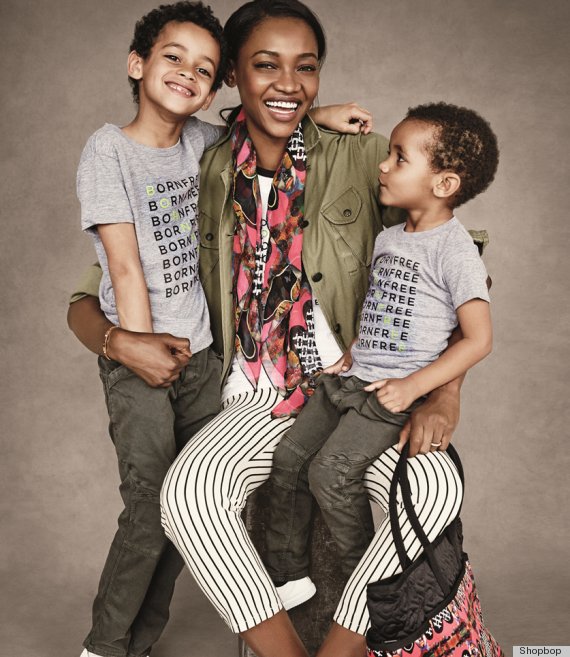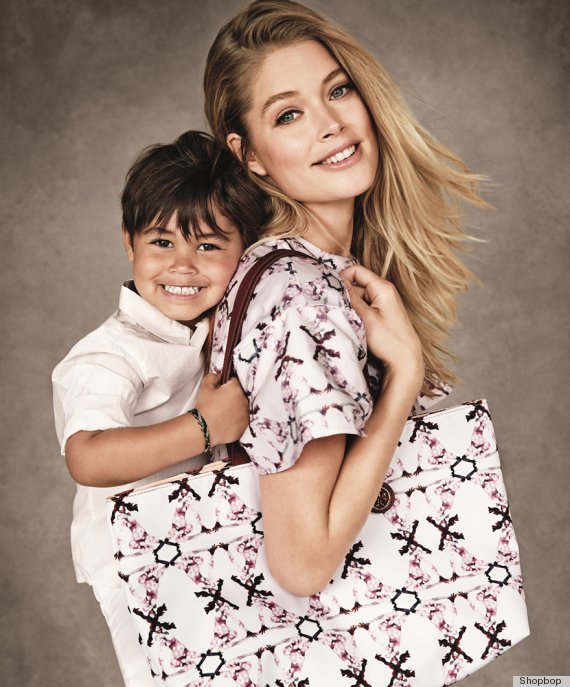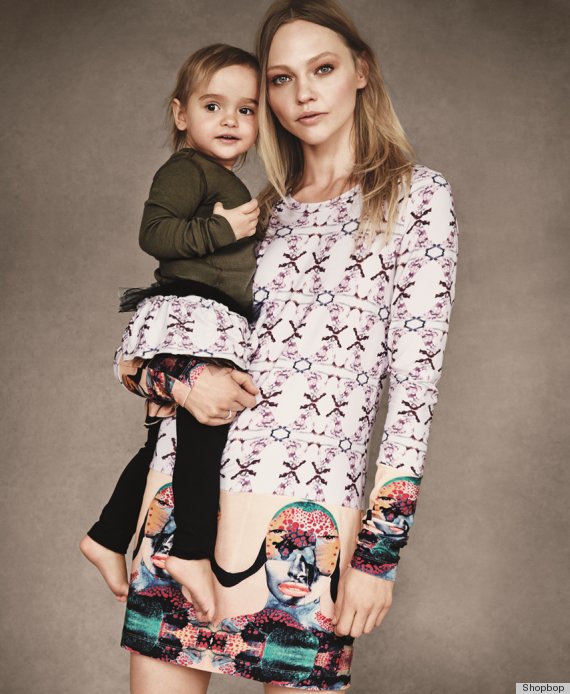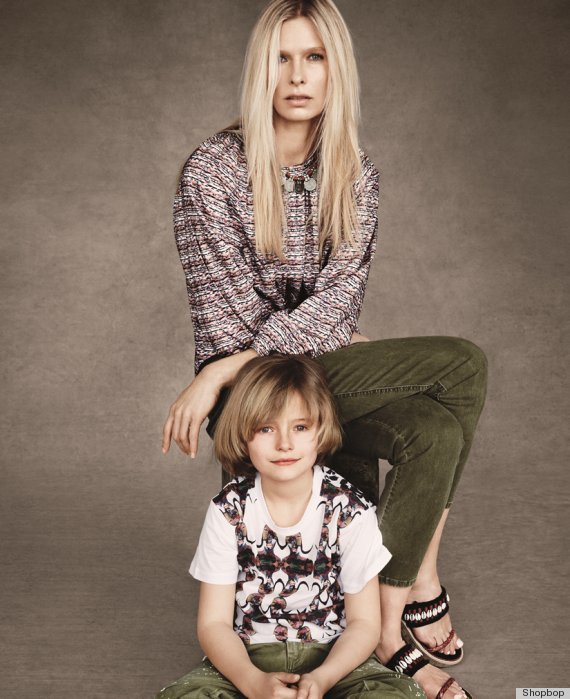 Pharrell Williams released the
music video for "Marilyn Monroe,"
the opening track to his new album "G I R L." With help from the video, it may help to get "Happy" out of your head for good.
Luis Cervero directed the shoot, and while there are some gratuitous butt shots, ballerina leg lifts and bathtub scenes, we can assume this is Pharrell's tribute to the ladies, since the
track was inspired by famous women in history
. Plus, Pharrell's wife, Helen Lasichanh, and Kelly Osborne show up to say hey.
But we can't talk about this video without bringing up
Pharrell's hats
. The guy must have 20 by now, but these four got special treatment: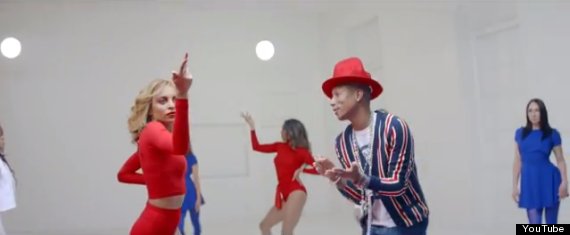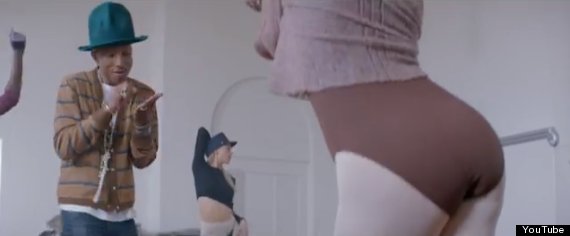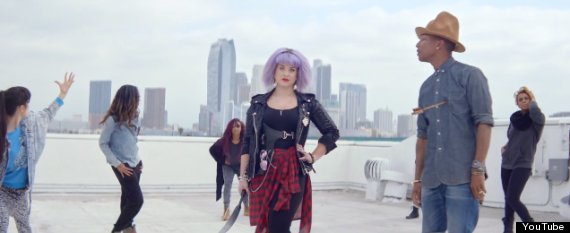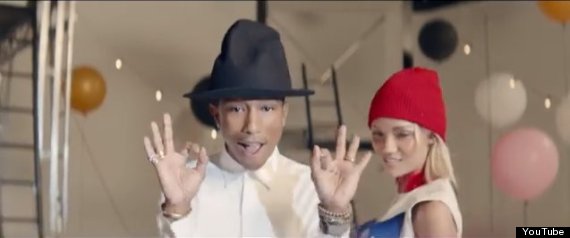 Kazuyuki Hamada, a member of the Japanese parliament's upper house, says Barack Obama is embarrassed by the first lady's extravagant trips, but is cheating on her and using the Secret Service to hide the evidence.
Arkansas Sen. John Boozman had pain in his chest and an arm on Tuesday, promping a hospital visit that led to immediate surgery
Craig Parsons (right) and Anthony Varrichione (left) where charged Wednesday for the beating that happened last January in Suffolk County, Massachusetts.
Barbara Winfrey, who was married to Oprah's father Vernon for 14 years and is being kicked out of the home they shared, claims that in all the time she's spent with Oprah and Stedman, she has never seen them kiss or hold hands. Oprah's BFF Gayle King is in the mix more often than not.
Emma-Victoria Houlton, 29, is one of the women who believes cutting out carbs has permanently damaged her health.
Lisa Watling, 29, from Hull, Yorkshire, died of septicaemia after initially refusing to go to hospital because it meant she would be away from her children.
Douglas Tarlow, 27, the ex-boyfriend of Nina Khosla, the daughter of a prominent Indian-American family, was arrested last week after it emerged that he had allegedly attempted to blackmail her family using nude photos of his ex.
The wreckage of a wooden steamship carrying 106 passengers, which sank in San Francisco Bay in 1888, has been found.
Kimberly Hayes' body was found smoldering on a dirt road in Alpine, California on March 9.
According to a survey more than a million homes lack complete plumbing facilities, which means that they are without a toilet, tub or shower, or running water.
The students involved, three 10-year-old boys and a 10-year-old girl at Greeley's Monfort Elementary School in northern Colorado, faced tough discipline but not suspension or expulsion, school officials said.
The Mayor launched a new clean air initiative on Tuesday to coincide with Earth Day, and has a few different targets that he hopes will limit dangerous pollutants.
Abdilahi Yusuf Abdi, who lives in Santa Clara, said he was shocked when Hawaiian authorities called him on Sunday to reveal they had found his son, Yahya Abdi.
The 32-year-old reality TV contestant was injured when his parachute collapsed and swung him into the side of a hill instead of away from it while he was paragliding in Utah on Sunday.
Kevin Hughes, 36, was arrested strolling around his local Walmart in Tega Cay, South Carolina, in the middle of the night on Thursday wearing only black sneakers.
Adding a handful of rose petals to food could help fight off heart disease and diabetes, Chinese researchers have suggested.
A former Fortune 500 executive has been charged with murder after his failed attempt to kill himself in a New Hampshire car crash killed a couple expecting a baby.
The bodies of Elizabeth Coyne and her husband Donald were discovered on Tuesday when a relative stopped by their Weymouth, Massachusetts home out of concern.
Hussein and Hassan Benhaffaf, split at Great Ormond Street Hospital in 2010, met Winter the tail-less dolphin from their favourite film Dolphin Tale.
More and more companies are starting or expanding wellness programs that aim to reduce their medical costs by improving their employees' health.
New study from the Indiana University School of Medicine is the first to examine whether vibrators could be transmitting the virus between sex partners.
US researchers have found that the so-called 'bloatware' is rarely used by consumers, with many spending just seconds on the apps before deciding to use downloaded versions instead.
Roan Ravenhill, 26, a ranger at the MalaMala Game Reserve in South Africa, mounted a GoPro on a wooden stand and waited for the leopard and her 10-month-old cub to come and investigate.
Instead of throwing away their hair when they comb it, women in China's Long-horn Miao minority instead save the strands and add them to their collection of hair that allows them to create spectacular headdresses.
Early aughts folk-singing star Jack Johnson is attempting to make a comeback with a line of flip-flops produced in collaboration with Feelgoodz.
The rescue was captured on the swimmer's water-proof video camera, which appears to be attached to his head as he snorkels just off Paniau Beach in Puako, Hawaii.
Brenna Gray said after her husband became hooked back on drugs in 2008, she would regularly find him passed out in their Iowa home.
Researchers at the University of Toulouse, in France, found the drug can even trigger heart attacks and problems with the brain's blood vessels.
The unexplained shadow appears to run through fans at a game in Bolivia on Thursday night. Footage captures the silhouette running at speed and through those in its path. It also appears to run straight through a barrier.
Sami Hayek was behind the wheel last February when the Ford GT he was driving fishtailed into the center lane and hit another car - killing Sami's passenger.
A couple from Florida are hoping the public will be able to solve a burglary that saw more than $30,000 of jewelry stolen along with a 60-inch flat-screen television.
The IRS has paid more than $2.8 million in bonuses to employees with disciplinary problems, including $1 million to workers who owed back taxes, a government investigator said on Tuesday
Jen Psaki punted a question about what the likely future presidential candidate had accomplished as secretary of state, bringing guffaws from a CNN panel.
After President Barack Obama's aunt Zeituni Onyango died at a Boston, Massachusetts nursing home, the President helped pay for funeral expenses. He did not attend her funeral, however.
The Australian Transport Safety Bureau had been scrutinising photos of the object, which washed ashore six miles east of Augusta in Western Australia state.
The Catholic Church forbids divorcees from taking communion, but Pope Francis has been looking for a solution to the problem.
Researchers from New York studied the healthy blood cells of a 115-year-old woman. They found over 400 mutations, but discovered her body 'tolerated' them.
Aleksander Doba, a Polish adventurer who set out six months ago to cross the Atlantic in a 21-foot kayak, has finally made landfall in Florida, looking like a castaway.
California-based Google collected historical Street View imagery dating back to 2007, when the service launched.
A sinkhole that was filled over the weekend in the Villages, Florida reopened Wednesday and has grown from 25 feet wide to 65 feet wide.
A judge has ruled that all court documents should refer to the Wikileaks informant as Chelsea Elizabeth Manning rather than Bradley Edward Manning.
Christopher Mesnard, 26, of RAF Mildenhall, Suffolk, damaged the statue outside 54-year-old Lucy Kennedy's house in Notting Hill, west London.
Researchers from New York University examined data collected from 395 newlyweds, and found that at the 30 month mark couples no longer felt as passionate.
Engineers in Canada hope improving human-robot interaction can lead to advanced droids using in everything from medical rehabilitation to manufacturing.
Amazon is teaming up with HBO, the first streaming arrangement agreed to by the cable network, in a deal that will make available to Amazon prime members some classic TV like 'The Sopranos' and 'The Wire.' Financial terms were not disclosed Wednesday.
University of New South Wales researchers used electrical pulses delivered from a cochlear implant to deliver gene therapy, thereby successfully regrowing auditory nerves.
William Rapfogel pleaded guilty to grand larceny, money laundering and other charges in a case that had rattled New York City and state political circles.
As Shakespeare turns 450, we take a sideways glance at the 'holiday destinations' covered by the playwright. A lovely escape to Macbeth's Scotland? Come this way.
William James Vahey, 64, killed himself in Minnesota, on March 21. He allegedly had a storage device containing pornographic images of boys, ages 12 to 14, who appeared to be drugged.
Researchers from Massachusetts have found the Y chromosome plays a vital role in the differences between the sexes in terms of health and disease.
Testifying in Manhattan federal court Tuesday, Eva Hatley swore she never meant for her Oregon ranch to become a training camp for al Qaeda.
Airline passengers could soon be facing each other in Tube-style seating if some of the ideas unveiled at a recent air industry conference come to fruition.
Fatah and Hamas have sought to put years of fighting behind them, after Hamas seized Gaza in 2007. But any agreement between the two sides is bound to add further complications to U.S. mediation efforts between Israel and the Palestinians.
Detailed images two American ships that sank off the coast of England during a pre-D-Day training exercise in World War II have been recorded by an unmanned submarine using sonar cameras.
Researchers in California found that most people support hierarchy when they think they're attractive and oppose it when they think they're not.
The anglers refuse to reveal where they hooked the 11ft mako in order to keep people from flocking to their secret spot.
Two high school students are set to patent a simple device that may put an end to the watery layer that forms on top of ketchup.
We take a tour of the world's skinniest tablet
Fills them with an opaque fog that can be scented and control their routes
Revenue surpasses analyst expectations at $45.6bn
You must employ zee little grey cells
Time shift feature lets users go back to 2007
Users spend less than a minute a month in the Samsung App Store
Mao upgrade, Mao problems
Everything you need to know about Nokia's Windows Phone 8.1 flagship smartphone
Reportedly is working with Apple on the so-called iBand
A stark contrast to last year's Galaxy Gear smartwatch
Despite competition from HTC One M8, Xperia Z2
The first rule of OS X beta is you don't talk about OS X beta
That escalated quickly
Available to download now
Looks to rival Samsung's Galaxy S5 with APS230 price
Sets DMARC policy to reject
But redesign hasn't gone down well with social network's users
So that's what the social network saw in it
We take a tour of the world's skinniest tablet
Harvesting stone crabs is not for the casual diver; it's a lot harder than grabbing lobster.
The Mercedes-Benz Miami Corporate Run will wrap up its 2014 5K series Thursday night at Bayfront Park, where more than 25,000 participants including thousands from UM and Baptist Health will compete.
The California Supreme Court refused Wednesday to review the involuntary manslaughter conviction of Michael Jackson's doctor, rejecting his lawyer's petition without comment.
A 9-year-old Atlanta boy who police say was abducted for a short time from his driveway is being praised by community leaders for his calm as he sang the gospel song "Every Praise" until the man released him.
Various Artists, "The Amazing Spider-Man 2 Soundtrack" (Columbia Records/Madison Gate Records)
Cue the Dynasty music and break out the shoulder pads -- Joan Collins is coming to town Friday night with her one-woman show. But don't expect the Hollywood legend, 80, to focus on her time as bitchy Alexis Carrington Colby on the famed '80s night soap opera. Collins has quite the acting pedigree, having debuted on the London stage at the age of 9 before she made it on the big screen in such 1950s movies as The Girl in the Red Velvet Swing and Rally Round the Flag Boys. Still quick as a whip, the glamorous as all get-out Brit will tell you all about her illustrious career and more during One Night with Joan at Seminole Casino Coconut Creek.
Actor David Birney is 75. Actor Lee Majors is 75. Actress Blair Brown is 66. Actress Joyce DeWitt is 65. Director Michael Moore is 60. Actress Judy Davis is 59. Actress Valerie Bertinelli is 54. Comedian George Lopez is 53. Actor Scott Bairstow ("Party of Five") is 44. Actor John Lutz ("30 Rock") is 41. Actor-comedian John Oliver is 37. Actor Kal Penn is 37. Singer Taio Cruz is 31. Actor Dev Patel is 24. Actor Matthew Underwood ("Zoey 101") is 24.
Fans of classic HBO shows like "The Sopranos" and "The Wire" will soon have access to those series and more through Amazon Prime in the first online streaming deal signed by the cable network.
Fans of classic HBO shows like "The Sopranos" and "The Wire" will soon have access to those series and more through Amazon Prime in the first online streaming deal signed by the cable network.
The California Supreme Court refused Wednesday to review the involuntary manslaughter conviction of Michael Jackson's doctor, rejecting his lawyer's petition without comment.
Look for wildflowers, bluebirds, mounds and more on Prairie Appreciation Day in Thurston County
As wildflowers bloom, before summer browns the landscape, tramp these trails on the sunnier side of the state.
Seattle Times reader Shun Takano's macro-lens photo of a garter snake sunning itself on a bush.
Rick Steves roams the quaint and cozy towns and countryside.
Know the rules where you hike, know your pet's limitations, and be prepped for Fido first-aid
Rick Steves roams the quaint and cozy towns and countryside.
Looking forward to the day you can buy a Xiaomi smartphone in the US? Keep waiting. The company's founder announced the first ten countries in Xiaomi's international expansion today, and the United States didn't make the cut. A shame, perhaps, for...
It's clear that when Facebook said it was going to be a mobile-first company back in 2013, it meant it. It's now surpassed 1 billion active mobile users a month, which is about a 34 percent increase compared to a year ago. Sure, a lot has happened in...
You might say the day is never really done in consumer technology news. Your workday, however, hopefully draws to a close at some point. This is the Daily Roundup on Engadget, a quick peek back at the top headlines for the past 24 hours -- all...
Doctors dream of using 3D-printed tissues to patch up injuries, but current techniques tend to kill a lot of the cells used in the process. Thankfully, researchers at Oxford University spin-off OxSyBio have found a gentler way to build these...
While the world has been deciding who governs the internet, Brazil has been busy establishing internet rules of its own -- and they may just set an example for everyone else. The country has passed a bill of rights that goes some length towards...
Like taxes, iPhones and, well, Madden, you can count on a new Skylanders game every year. If you're unfamiliar with the franchise, that may just be a symptom of not being around kids -- the toy / video game series is a dominant force in the kids...
Amazon's dead-set on killing off the grocery store, with a same-day delivery service and even a Dash gadget for restocking items around the house. Now the retailer's going one step further, taking on Costco and Walmart with a new program called Prime...
Your kid's in-school web searches may soon be much safer and smarter: Microsoft has just expanded availability of its Bing school program (now Bing in the Classroom) to all K-12 institutions in the US. The move lets any school fill out a form to...
Gadgets are probably the last thing you'd look for on Etsy's DIY-heavy marketplace, but that could soon change. Today the NY-based company announced that it's acquiring Grand St., an online retailer focused on electronics with a creative, maker bent...
It's that time again: Apple has just posted its Q2 2014 financials, and there are some interesting device sales numbers to peep at. Apple saw a big year-over-year jump in the number of iPhones sold (43.7 million this time vs. 37.4 million in the same...
Let's just cut to the chase: Aereo's battle with broadcast TV hit the Supreme Court this week and it's one of the biggest entertainment-related court confrontations since the Betamax case in 1984. Confusion levels have been high, but Ben and Richard...
After existing Open Internet, or net neutrality, regulations were struck down in court earlier this year, it appears the FCC is ready to come back with new ones. Re/code reports Chairman Tom Wheeler confirmed they will be on the table at an agency...
Soon you might be able to simply ask your Apple TV to start playing 'House of Cards' rather than fumbling through a series menus. Code found in iOS 7.1's software development kit indicates that Siri is one its way to a new device, likely Apple's...
Video games now have more online spectators than traditional sports. Crazy, right? It's crazy. According to Qwilt, a company that provides video caching services to content creators, Twitch is now the most popular live streaming site in the US. The...
If you've missed a few episodes of the Cosmos revival or maybe just want to fill the universe-sized hole in your media rack, the series hits Blu-ray and DVD this summer. Come June 10th (two days after the final episode airs), you'll be able to watch...
Consider this scenario: Randall is an elderly man living alone. He's doing pretty well -- until one day he has a mild stroke. In the weeks that follow, he's not as active as usual, getting up later and not leaving the house. Motion detectors, a...
Microsoft promised that it would put out a Remote Desktop app for Windows Phone, and it's making good on its word -- provided you're an early adopter, anyway. The company has released a Remote Desktop Preview that requires Windows Phone 8.1 (which...
Two of the biggest names in American communications, Verizon and Google, are also two of the highest spenders in the world of political lobbying. In the last two years alone, the two spent a combined $63 million attempting to sway legislation in...
3D printers have produced some pretty amazing (and scary) stuff, and now a pair of high school seniors have successfully used the tech to ensure they'll never have to eat a soggy hotdog again. Tired of the watery, separated ketchup you get from a...
Scribd's e-book subscription service is only six months old, and already it's working hard to hook some big names to convince you that it's worth $9 a month. The company has now snagged a deal with publisher Lonely Planet that'll see hundreds of the...
Head-mounted computing specialists Recon Instruments is building quite a team to take on Google Glass. Last year, Intel offered both cash and its manufacturing and technology expertise, and now the "other" Motorola has followed suit. Motorola...
We're not sure there was ever much doubt, but the US government has given the thumbs up to Facebook's $2 billion purchase of Oculus VR. The Federal Trade Commission examined the deal and found that it would not violate American antitrust laws. Now...
Americans no longer have to splurge on the high-end Galaxy Tab Pro or Note Pro if they want a modern Samsung tablet -- the more affordable Galaxy Tab 4 range is headed to the US. WiFi versions of the Tab 4 7.0, 8.0 and 10.1 should hit shelves on May...
AOL doesn't just want short clips of newsy content on its online video platform, AOL On. That's why the company (which, disclosure, owns Engadget) has signed a non-exclusive deal with Miramax to screen some of its movies on the service. The first...
"Our major aims were usability, friendliness and a more humanistic design. We wanted something with a pleasing feel ... and better grip. If we used metal, [we felt] the designs felt heavy and cold," explains Senior Product Designer Dong Hun Kim,...
The prisoners have barricaded themselves and the guard on the third floor of Trumbull County Jail in Warren
Ukraine has alleged that Russian forces are operating in the east of the country. But one man, whose bearded face appears in photographs seen around the world, tells TIME that he and his comrades do not work for the Russian government
Kevin Clash, the voice of everyoneas favorite ticklish red puppet, resigned from Sesame Street amid allegations of sexual abuse, but the case was dismissed and recently upheld due to "statute of limitations," an attorney for one of the accusers said
About 774 million people cannot read or write worldwide, and illiteracy can often be traced to the lack of books. Now, cell phones are cheaply and conveniently putting electronic books in the hands of users across developing countries.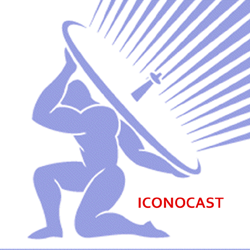 World - Health - Sports - Science & Technology - Travel - Entertainment - Food & Drink - Books - Music - Arts - Business & Money- Fashion & Style - Movies - Weather
Installed On More Than 2000 Web Pages
New Search Engine Technology (patent pending) and News Aggregation Allows:
100 times more powerful than Google News, CNN, Fox, NBC, and ABC News Combined
More Than 200 News Sources On Home Page Daily; More Than 10,000 News Head Lines Daily
Call 442-666-9040 for PHP News Delivery For Your Website
You Can Choose Mix of Keywords or Mix of News Sources
Create Unique Content in almost every subject by mixing Keywords or Sources
Example: Mixed Keywords: Most Searched Symptoms 2013 and 2012
Refresh your web page daily with fresh relevant news
According to Google web pages that are updated regularly are ranked higher
Most people use our code to create unique content on Health Press Releases that they can freely post on their websites (Example)
Call 442-666-9040 for more information.